The Smart Fourjoy Concept has been shown at the Mercedes and Smart Media Night, on the eve of the 2013 Frankfurt Motor Show which starts tomorrow.
The compact four seat electric vehicle concept previews the future Smart models starting with the next gen Smart Fortwo and Forfour, expected on the roads in the next two years.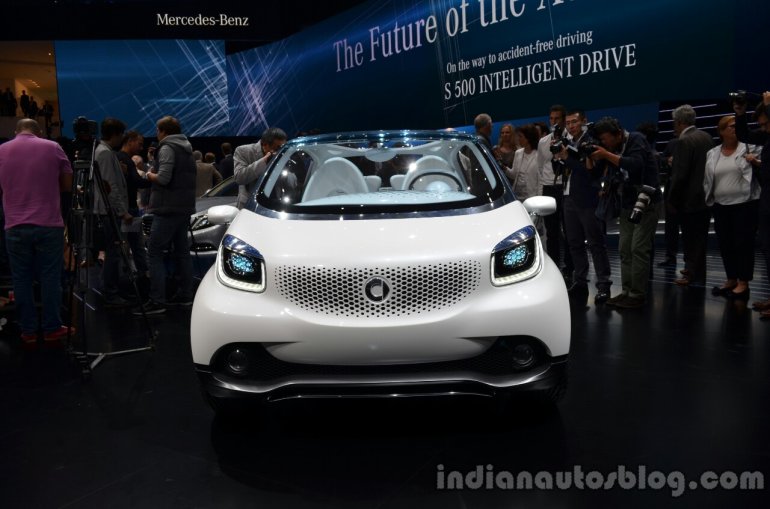 Smart terms the doors, roof and rear windshield as "unnecessary ballast" and hence the concept doesn't bother with them! The company says that through an incomplete body, show goers can get a good look at the vehicle's futuristic interior.
Smart's typical design touches such as the extremely short overhangs, and wheels at the outer most corners are carried over to the Fourjoy. The sturdy 'Tridon Cell' which is the main structural element of the car is made with aluminium. To complement the exposed polished aluminium body sections, the rest of the body is finished in Pearlescent White.
The concept gets a bigger Smart logo up front which is embedded into the honeycomb grille. The headlamps don't have a lens so that the LED DRLs render a 3-D appearance.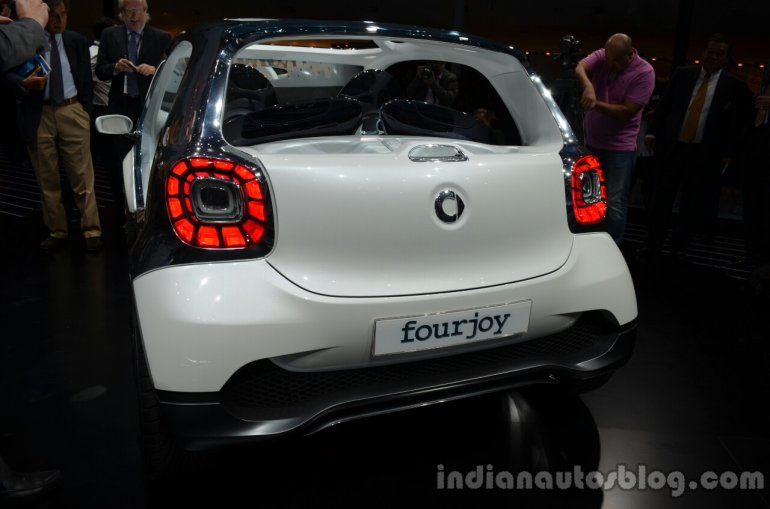 The rear of the car is characterized by LED taillights and a boot which houses helmets. Why helmets, you ask? It is to wear them while you to skate down the road with the roof mounted electric longboards!
The interior is futuristic to say the least. The spherical instrument console and a tastefully detailed curvy dashboard is another reminder that the Fourjoy is a concept! Smart say that all four seats offer lounge like comfort. The cabin houses two smartphones, one on the dashboard and one in front of the rear seats, for entertainment purpose.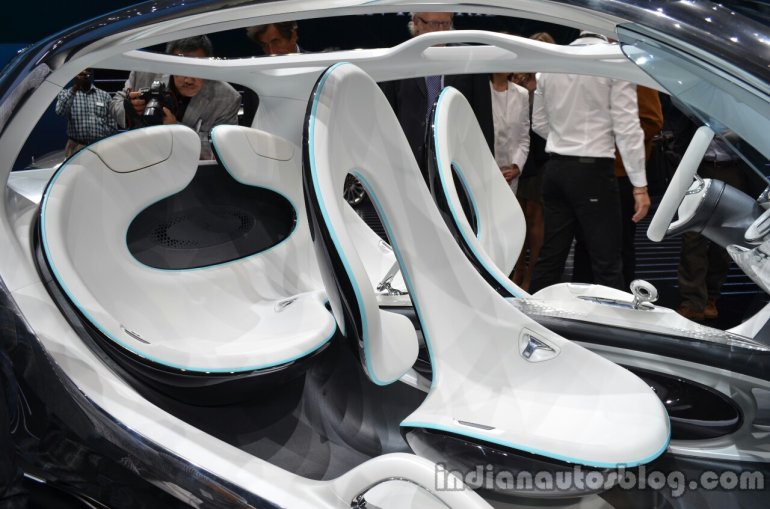 The Fourjoy is powered by a 55KW (74hp) electric motor which derives juice from a 17.6KWh Li-ion battery pack. The range is not mentioned but the battery takes 7 hours to charge via a normal socket and less than 1 hour via a fast-charge public charging station.
Smart FourJoy Image Gallery
More details can be found in the press release on page 2.
Press Release - Smart FourJoy at the Frankfurt Motor Show
[Can't see the press release above? Head over to Scribd]