Skoda India finally fills the wide gap between the Fabia hatchback and the Laura with the Rapid. Prices start from a very aggressive 6.75 lakh with the petrol also available with automatic transmission. The launch was held in Delhi this afternoon and in this detailed post, we bring you details on how the event unfolded.
Skoda celebrates three occasions today - 1 – Launch of the Skoda Rapid 2 – Completion of 10 years of Skoda in India and 3 –  Launch of the new logo and the tag line 'SIMPLY CLEVER' in India.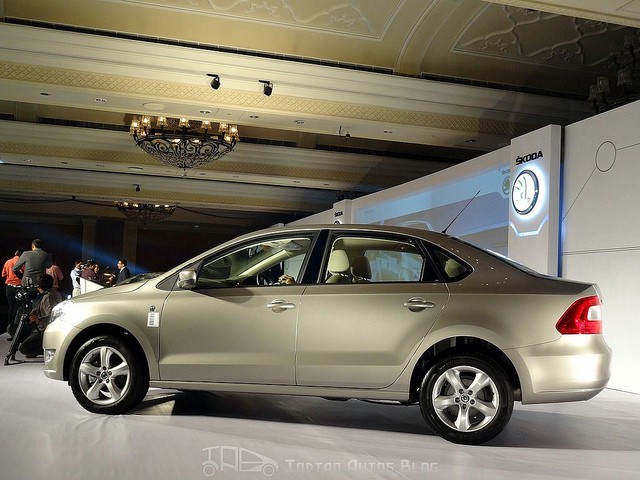 Talking about its history, Skoda reminds us at the start of the presentation that it was them who created the 10+ lakh rupee car segment in India with the Octavia. They were the first to launch a 'super/premium-hatchback' in India i.e the Fabia and have set the benchmark in the affordable luxury limousine segment with the Superb.
Here are some other details discussed at the conference today -
January-October 2011 sales at Skoda are 50% higher compared to corresponding period in 2010.
Skoda plans to have 100 outlets by the year end, making sure they are present in all markets where a potential customer exists.
The Rapid fills the gap between the Fabia and the Laura.
Target audience of the Rapid is a person who has a hatchback and wants to upgrade to a premium sedan.
Skoda says the Rapid is an example of being compact from the exterior and highly spacious inside.
Initially targeting a volume of 2,000 cars a month Skoda will produce higher numbers once demand picks up.
Skoda and VW have always been sharing components but the design and characteristics of the Rapid are completely of a SKODA, claims the Czech company.
It accepts that the onetime service cost of a Skoda or a VW is on the higher side as compared to rivals but the service interval is also very large. Where other companies offer a service interval of 5,000 km, Skoda offers an interval of 15,000 km, naturally driving down the overall service cost.
The C+ Segment is expected to grow at 5% this year.
Recent increase in petrol price has affected the sales of petrol cars so much so that almost 80% of the cars Skoda is currently selling are diesels.
Skoda Rapid Launch Image Slideshow
Can't see the slideshow above? Head over the Skoda Rapid Gallery Page to see the images.
Skoda Rapid Brochure