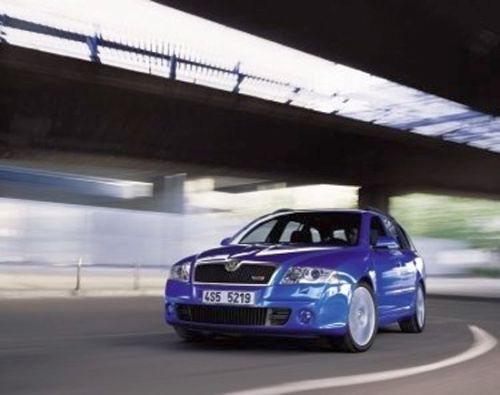 The Skoda Octavia vRS is one of those cars which bring to mind racing circuits and pictures like Fast and the Furious. OK, possibly only if you are an Indian, because let me simply put it this way- A sub 20-lakh car which can do 200+ kph and is constructed to do specifically that, is missing. Think about it. The Accord isn't exactly a street-racing type car and neither is the Teana or the Sonata Embera. Mitsubishi could have changed all of that if the Cedia was given a more powerful engine, atleast as an option, but that regrettably didn't come about. The Jetta, Corolla and the Civic are all very competent cars, but don't come under the vRS's category.
So the super-fast and super-cool adrenaline-pumper is getting dressed up in England. No, no stickers or flashy bumper colors here, as Skoda mean real business.
From 1 September all Octavia vRS sold in the U.K will be fitted with the following items as standard:
18" Zenith Alloys

Dual Zone Climate Control

Jumbo box central armrest with 3.5mm auxiliary in socket

Rear electric windows

Cruise control
The additional treats will set the customer back by naught! Yes, they get all of the above upgrades for free, which otherwise would cost in excess of  £1,100 (18" Alloy wheels and Cruise control cost the Earth here in India regardless of the brand). It's really a shame that Skoda have ceased producing the vRS version (a local dealership claims it was a strategic move, although the 150 bhp engine is offered in another variant Ambient), never mind the supplementary accessories at no extra cost, which could have made more sense here that it could have in any other part of the globe.