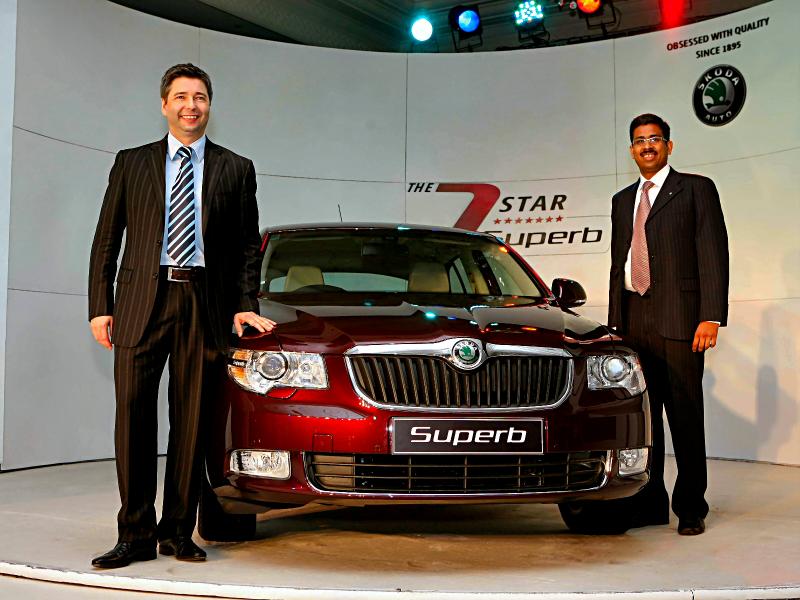 The Czech carmaker has got something new, this time it is the much awaited Superb which is the 2nd generation model based on Volkswagen Passat.
The new Skoda Superb is available only in petrol format. The 1.8L turbocharged TSI petrol unit produces 160bhp of power and 250NM of torque and comes with the 7-speed DSG transmission to complete a package, that's as good as any Mercedes or BMW.
Features on the "7 star Skoda Superb" (as Skoda refers it) are
Total of eight airbags including rear and side.
AFS (Adaptive frontlight system) with corner lamps.
Bi-Xenon projector headlights with retractable washers.
ABS (Anti-Lock Braking System) with EBD (Electronic Brake Force Distribution).
ASR (Anti Slip Regulation)/ TCS (Traction Control System).
EDL (Electronic Differential Lock.
ESP (Electronic Stability Programme).
HHC (Hill Hold Control).
TPM (Tyre Pressure Monitoring)
Parktronic - Front and rear parking distance control
Formula 1 like Triptronic manual gearshifting via paddles near steering wheel.
Rich nappa leather seats.
Electric panoramic sunroof.
12 way electronic adjustable driver seat with memory.
Dual zone climate control.
Touch screen audio system if you are being chauffeur driven.
16" Alloy wheels with 205/55/16 tires help on Indian roads.
Two way boot opening system, Yes as we told you earlier that new generation Superb's boot can be opened as a hatchback (completely with rear screen) or like a sedan's.
The best of features are the 'twindoors,' where the trunk lid opens like a hatchback or a sedan, and the award winning Parking Assist.
Still not satisfied with this long feature list of new superb, Need even more? Yeah there is, Skoda India has started the website of its new generation Superb where you can read its whole list of features with 360* view.
If you are impressed with the design and feature list of new superb just like us, and want to see this Merc-sized car parked in your garage then you can get it for
* Ex-showroom Delhi Rs 18,88,743
* Ex-showroom Maharashtra Rs18,40,001
* Ex-showroom Kolkata Rs 19,05,722
* Ex-showroom Chennai Rs18,84,498
Talking about diesel, (as Indian buyers are more eager to read diesel figures of any car first ;) ) the TDi PD (Pumpe Duse) 2.0-liter diesel produces 140bhp of power and 320Nm of torque and comes with 6-speed DSG (Direct Shift Gearbox) Transmission. The diesel Superb will be launched by the end of the year.
Image Source- Overdrive
Press Release
Skoda adds a 7 star experience on wheels to your life
- Launches the globally successful, all new Skoda Superb in India-
Mumbai, 10th February '09: Škoda India, a fully owned subsidiary of Škoda Auto a.s. Czech Republic (Volkswagen Group), one of the fastest growing car manufacturers in Europe, launched the all new Skoda Superb in India at the hands of Mr. Thomas Kuehl, Board Member, Sales and Marketing, SkodaAuto India. With the launch of the new Skoda Superb, the company is set to further strengthen its position in the premium segment through incremental sales volume.
7 star experience- the all new Superb
* Design- Distinctive, elegant & captivating exterior design; leather, wood & chrome package.
* Safety- Eight Airbags; Adaptive Front Light System (AFS)
* Comfort- Best in class rear leg room & headroom space.
* Convenience- Touchscreen infotainment system; gearshift controls on steering wheel.
* Twindoor technology
* Engine- TSI (Turbocharged Fuel Stratified Injection) petrol engine
* Transmission- Seven Speed DSG Automatic
With this, Skoda aims at meeting requirements of the Indian Market with innovative luxury, designed to satisfy the customer's desire for perfection. Through the distinctive, individualistic and exceptional design of the new Superb, Skoda wishes to give their Indian customers a 7 star experience on wheels. The model compliments the value added features associated with the brand i.e. commitment to quality, luxury, safety and advanced technology.
Speaking at the occasion, Mr. Thomas Kuehl, Board Member, Sales & Marketing, ŠkodaAuto India said, "When we launch new products, we not only focus on giving more choices to our customers but also offer them a new experience coupled with world-class technology. And with the all new Superb, we intend to give a 7 star experience to our customers. Further, keeping in mind the demand of our cars in India, we expect to sell more than 1000 units of the car by year end."
While explaining the features of the car, Mr. Kuehl said, "The new Škoda Superb has got the best in class fuel efficiency and is equipped with advanced styling, luxurious wood, chrome and leather interiors, enhanced comfort and safety in addition to its time-tested quality and reliability. With features like the Electric Sunroof , 16'' alloy wheels, Parktronic – front and rear park distance control, the patented Twindoor Technology and 565 litres luggage compartment, the car will be available in TSI (Turbocharged Fuel Stratified Injection) petrol engine."
Available in an aesthetic array of colors – Black Magic, Rosso Brunello, Cappuccino Beige, Diamond Silver & Candy White, the price range of the car would be:
* Ex-showroom Delhi Rs 18,88,743
* Ex-showroom Maharashtra Rs18,40,001
* Ex-showroom Kolkata Rs 19,05,722
* Ex-showroom Chennai Rs18,84,498
Globally, the Superb has bagged a bunch of prestigious awards in 2008 like the 2008 Golden Steering Wheel (Goldenes Lenkrad) organised by the German-based magazine Bild am Sonntag and the Großen Österreichischen Automobil-Preis organised by ARBÖ every year, where Experts, VIPs and thousands of readers selected the best and most popular vehicles of 2008 from altogether 36 candidates for the year. The car has done Skoda proud with other awards by being claimed the Car of the Year in Czech Republic, Latvia, Estonia, Lithuania, Bulgaria, Ukraine, Russia, Bosnia and Herzegovina. It has also been awarded the Most Beautiful Car at Motorshow Katowice, Poland; the Best Company Car in Croatia and the Auto Trophy (Upper class) in Germany.