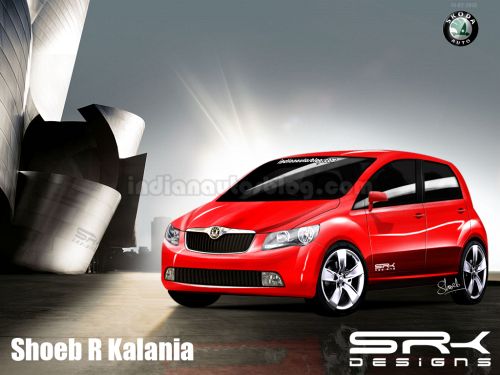 Skoda India is keen on entering the ever-growing small car segment soon. The Volkswagen owned Czech car-maker which entered the Indian market in the year 2001 with the rock solid Skoda Octavia, cemented its position as premium car maker in India. Now Skoda India is getting more ambitious as it has hinted that it would be making more affordable cars (small cars) for the Indian market.
Thomas Kuehl, Sales and Marketing, Skoda India -
All this while, we have been in the high level of the lifestyle. People like our cars (but) we need to be a little more affordable.
Skoda is in the process of developing the small car and this could be sold both in the Indian market as well as the European market. The new small car which could be christened the 'Joyster', would be built on Volkswagen's upcoming UP! small car platform. The Skoda Joyster could also compete with the Tata Nano Europa in the future, as Skoda is perceived as a 'value' brand in the Europe.
The Skoda small could share the small frugal 1.0l TDI diesel engines and a sub 1.0l petrol with the VW UP!. As both the smallc ars are based on the same platform the Skoda small car could be built at VW's high capacity plant at Chakan, Pune. The car could be priced between 3 to 4 lakh Rupees.
It would be interesting to see how VW manages the Skoda Joyster and the VW UP! selling in the same market at a close price range. VW India says both the brands complement each other rather than eating into each others sales, but would they still be complementing each other even in the small car segment?
Click here to see Indian Autos Blog's exclusive Skoda small car rendering
Source: Tradingmarkets