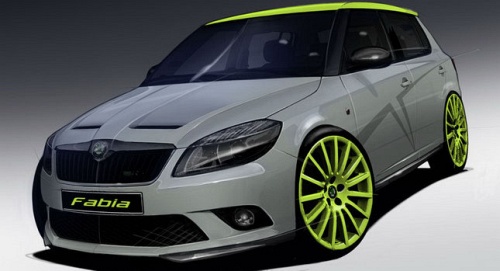 The VW group is going all out at the GTI tuning event at the Austrian lake Wörthersee. Apart from showcasing 2 special Golf GTI'S & 7 Audi A1's the German giant is also showcasing the New Skoda Fabia RS+ & the Octavia (Laura) RS.
The Fabia looks super sexy with smoked out headlamps, massive wheels with green alloy wheels, bonnet with an air scoop, side skirts, front spoiler, rear diffusers, & more sportier interiors with bucket seats. But what what the talking point is the 1.4 litre TSI turbocharged engine that pumps out 180 rampageous horses! The transmission is a 7 speed dual clutch DSG with paddle shifts.
The Octavia(Laura) RS also gets sporty looking exteriors & interiors which make the car look hotter than usual & a 2.0 litre TSI 200 Bhp engine.
Now this got us thinking-when will we see these models in India? We don't expect the VW GTI's to make it to Indian shores as the company is currently focusing on the Polo & building the VW brand. But what about Skoda?
The Octavia RS was a super hit with enthusiasts falling in love with the car & tuning companies dropping more power into it. Skoda promised us the Laura RS 3 years back. They showcased it at the 9th Auto Expo & the facelifted version at the 10th Auto Expo but there has been absolutely no confirmation from the company about these models.
The facelifted Fabia will be launched around Diwali this year but again there have been no signs of the Fabia RS although we sincerely hope that Skoda launches it around Diwali itself.
Driving enthusiasts across the country are dying to floor these cars as they provide performance at an affordable price. India has no hatch that can be rightfully described as a 'hot hatch' as sales of such cars are not so much & thus the companies are reluctant to bring such models. But as the market develops sales of such cars will definitely pick up.
So rightfully said we are anticipating with a bated breath for the launch of these RS variants. Are you listening Skoda?
Source - Carscoop