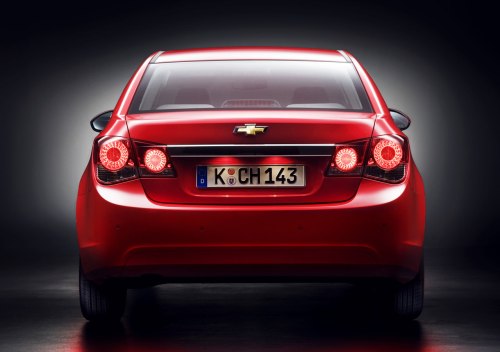 Our regular reader Shaun Malambo, who lives in Cape Town, South Africa, had a chance to experience the upcoming Chevrolet Cruze. As you know, IAB has been keenly following the Cruze making this our 27th post on the car.
The Cruze was launched in South Africa on the 24th of this month and due to personal reasons, Shaun could not attend the launch and cover it for us. As a result he had gone a Chevy dealership close to his house and came away impressed.
Shaun Malambo -
The Chevrolet Cruze was launched on the 24 September 2009 in South Africa and has visual appeal. I couldn't attend the launch but went over to my local dealership to have a look at what all the buzz was about since I'm following Indian Autos blog and being a Chevrolet Aveo & Spark fan.
The car oozes sophistication and grandness which is quite uncommon for a 'budget priced' car. The Cruze is a compact and sleek car, it looks solid and the linear lines on the exterior makes the Cruze sexy without being over the top – it is indeed a thing of beauty in the eyes of the beholder. It is well built, of a high quality and in a league of its own. It can't really be compared to any other luxury car I encountered. You need to see it to believe it!
As my wife said when she saw the car "From a woman's perspective I was drawn to the boldness of the car without knowing what the finer details were i.e whether it had air-conditioning or electric windows etc.
I wasn't interested in all of that, I just wanted to get in and drive. Women buy cars on emotion, they buy what they like and this car is exactly that. It also appealed to me because of its very wide boot that will have plenty of space (thinking of shopping bags and all).
The Cruze is suited for both men and women. Oh…and we will have one parked in our garage soon!"
Lucky the Cruze has more features compared to any other car in its class and price range - even from the entry level 1.6L to the 1.8LT and was accepted by journalists as in South Africa as "original and fresh" for a GM product.
Shaun Malambo
Cape Town, South Africa
Chevrolet Cruze Image Slideshow


Chevrolet Cruze Image Gallery direct link