After showing us the renderings, Mitsubishi has finally taken the cover of its small car ambitions at Geneva. Aimed at emerging markets such as India, China and Brazil, it is hatchback that is 3,740mm long and 1,680mm wide.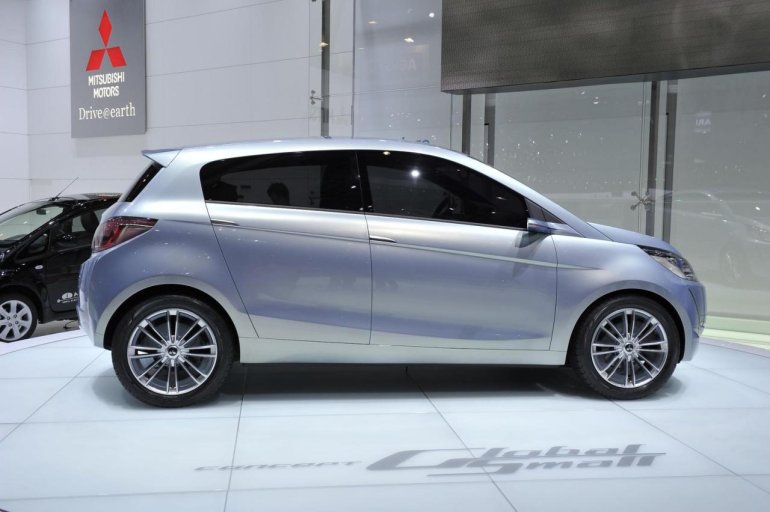 Currently called the e-compact Concept, the production model will be powered by 1.0- and 1.2-liter engines. It will have intelligent brake energy regeneration and an engine start/stop system that will help give exceptional fuel economy figures. The platform can also accommodate a full electric powertrain.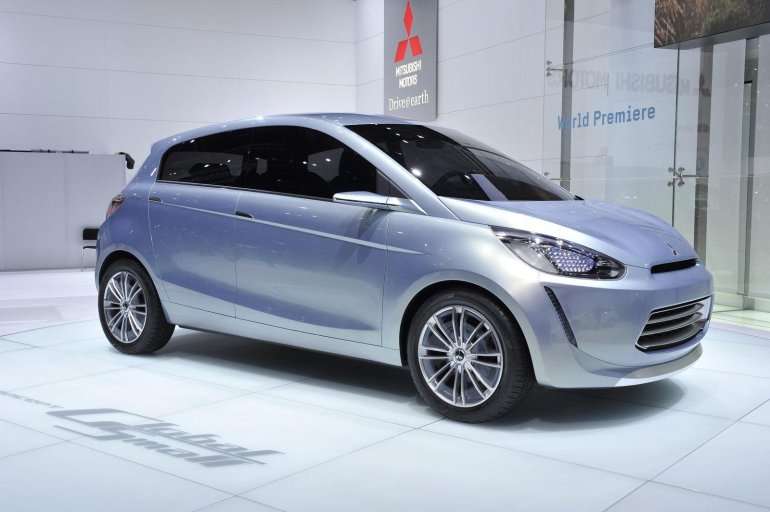 Mitsubishi plans to launch this vehicle in 2012 and manufacture 150,000 to 200,000 units annually.
Press Release
MITSUBISHI MOTORS CORPORATION UNVEIL THEIR CONCEPT-GLOBAL SMALL VEHICLE THE "e-compact" AT THE 81st GENEVA MOTOR SHOW
Mitsubishi Motors Corporation unveils its new Concept-Global Small vehicle at the 2011 Geneva Motor Show
Geneva 1st March 2011 - Mitsubishi Motors Corporation (MMC) has today unveiled their Concept-Global Small vehicle, the "e-compact" at the 81st Geneva MotorShow. After "Project Global" in the C/D-Segments[1], MMC is now pushing the boundaries of global product planning with the forthcoming introduction of "Global Small" in the B-Segment: next-generation architecture with built-in flexibility to accommodate - by design - customer requirements in ALL world markets in the lower sector of the market(s).
Previewed as "Concept-Global Small" at the 2011 Geneva Motor Show, this "e-compact" will be unveiled in production form towards the end of this year, prior to a start of production scheduled for early 2012 at an equally all-new plant MMC is currently building in Thailand, its third factory in this strategic production hub.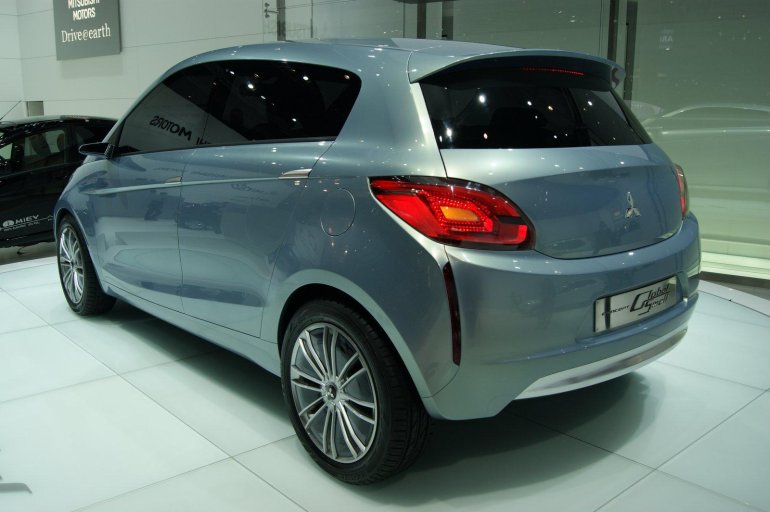 Global product of the "Global Village"
This new Mitsubishi will be proposed as an entry model for emerging markets as well as a fuel efficient car in developed markets. As such, this all-new e-compact project shall be MMC's answer to some fundamental evidences:
- With 80% of its total output bound for export, Mitsubishi Motors ought to take into consideration the trend towards globalisation in trade and communications, no matter the market segment.
- In fast developing markets such as China, ASEAN and other emerging areas (50% of all world markets by 2013), MMC shall embrace the increasing demand for personal mobility through affordable, fuel efficient and substantial yet compact vehicles.
- In the mature markets of Japan, North America or Europe, down-sizing and efficiency are key to meeting ever stringent environmental regulation whilst fulfilling the need for multi-motorisation with sensible products in a re-invented B-Segment.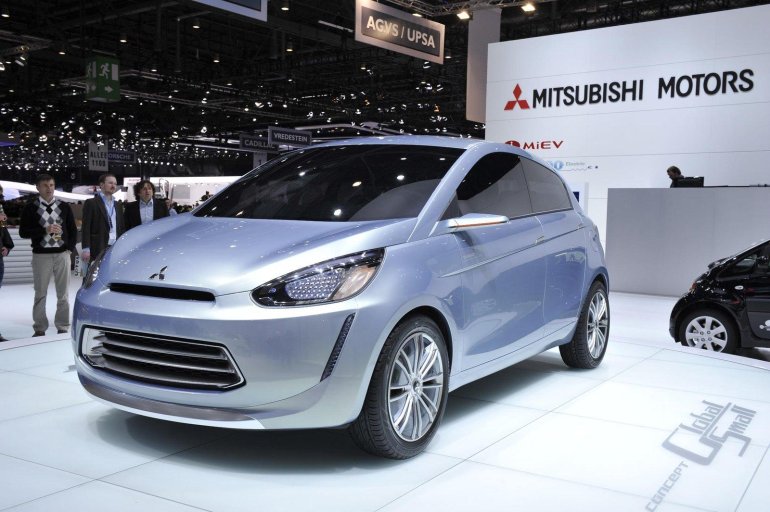 - In the face of volatile exchange rates & commodity prices as well as the challenge to serve all world markets with small vehicles delivering - by definition - low margins, Mitsubishi Motors shall pursue the highest level of efficiency in its production system through the concept of global production hub.
"e-" for...
Developed in Okazaki (Japan) - MMC's global R&D Center - in less than 2 years, the forthcoming Global Small project is meant to merge all these "eco/compact" requirements into one single package designed as such instead of mere adaptation(s):
- "e" for "efficiency": highly efficient in its overall packaging, Mitsubishi Motors' e-compact combines the virtues of a small vehicle (manoeuvrability) and excellent visibility whilst sitting 5 adults in comfort and accommodating sufficient luggage space within a retrained footprint (3,74 m length x 1,68 m width): one of the most space efficient in the B-Segment.
- "e" for "engineering": the architecture this e-compact is based upon has been designed to accommodate upfront foreseeable customer and regulatory requirements in ALL world markets whether Japan, North America, emerging countries or Europe, instead of costly later adaptations: a first in the small car class.
- "e" for "environment": through weight saving measures, all-new petrol 1.0 and 1.2 litre MIVEC power trains, the application of MMC's green technology solutions (Auto Stop and Go, Brake energy regenerative system,, etc,...) and fine-tuned aerodynamics as exemplified in the sloping roof line, Mitsubishi's e-compact can boast sensible level of fuel consumption and therefore emissions well in line with market trends.
- "e" for "electric vehicle": as a further environmentally friendly measure - and a direct effect of its fully integrated Global Small architecture - e-compact is engineered to accommodate a further variant, fitted with a 100% electric power train.
- "e" for "economies": robust and reliable by design as customary for Japanese products, "Global Small" should also guarantee low running costs.
- "e" for "effective design": as a daily reliable runabout equally at ease crossing the bush, tackling mega pole traffic or blasting highways (within speed limits), the Mitsubishi e-compact was styled with no-nonsense efficiency-first in mind. Robust looking yet enjoying sophisticated aero-dynamics, it should grace traffic none-the-less with a friendly face.
- "e" for "export": the first of its kind, "Global Small" will be built at MMC's dedicated hub of Laem Chabang Industrial Estate in the Chonburi province of Thailand. The forecasted annual volume of 150,000 units (with a possible increase to 200,000 units) will be exported to the ASEAN countries , Japan, North Asia, Australasia, Europe, North America and many other markets around the world.
Fifty years later after its first small car, the little "500" launched in 1960 just at the start of the massive export drive of Japan, Mitsubishi Motors' ambitious e-compact is about to open a new significant page in MMC's history...
Main specifications:
Overall Length: 3,74 m
Overall Width: 1,68 m
Overall Height: 1,49 m
Power train:
3 cylinder MIVEC (petrol) engine
1.0 Litre
5 M/T
Auto Stop and Go
Brake energy regenerative system
185/55 R 16 low rolling resistance tyres
Source - WorldCarFans.com