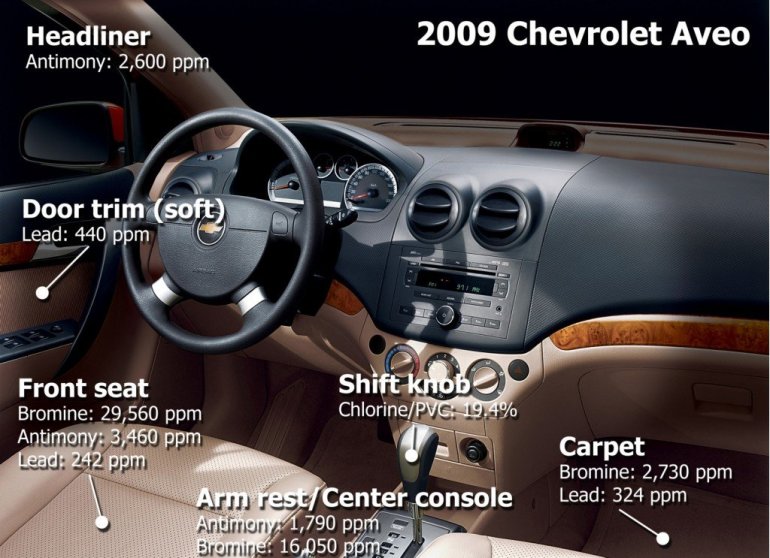 The title sounds a little alarming, we know.
The findings pertain only to the US-built 2009 year spec Chevrolet Aveo. Tests have not yet been performed on vehicles manufactured in India or other countries.
HealthyStuff.org is an information portal for the Ann Arbor, Michigan-based Ecology Center. It used X-Ray Fluorescence (XRF) device to test components in the passenger compartment of vehicles for substances "with known toxicity, persistence, and tendency to build up in people and the environment."
The team finds traces of life-damaging substances like lead, cadmium, mercury, arsenic, chlorine/PVC, bromine/BFRs, antimony, tin, and chromium, measuring it in parts per million (ppm).
Products are assigned low, medium, or high risk level ratings which are dependent on number of substances present.
It then rates the findings on a scale of 5 units, zero for best, five for worst.
The results are fascinating and frightening.
On one hand, the Chevrolet Cobalt scores a no-threat reading of 0.7. The Aveo on the other hand, scored an appalling 4.7. You will understand why by clicking on the above image.
While there are safety and emission norms for vehicles, we're not aware of norms that prescribe the permissible level of toxicity in interior trim. We generally assume that once we roll up the windows and switch on the air-conditioner, we're completely insulated from the pollution or harmful substances in the atmosphere around us.
Think again.