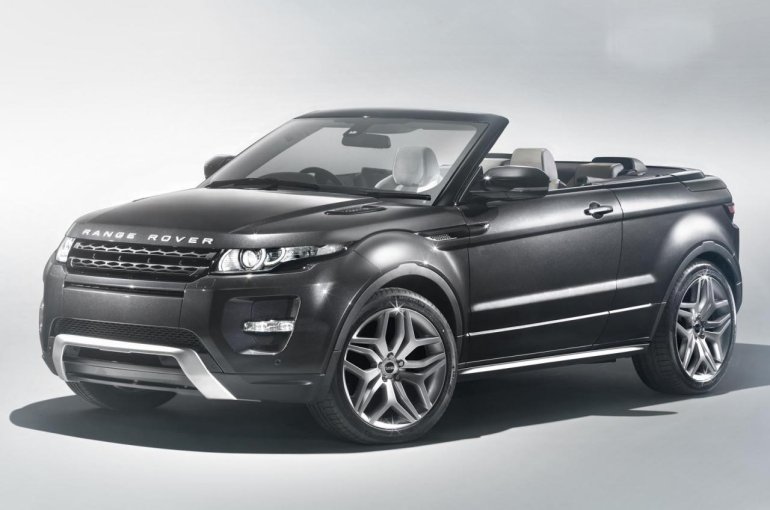 For everyone who is a mad fan of TopGear, the epic British car show, this news should not come in as a surprise. In the last week show Jeremy tried to scissor the top of a Range Rover Evoque to make it a convertible. Land Rover, mighty impressed with the idea, have revealed Range Rover Evoque convertible prior to its Geneva debut.
What's in store?
The Range Rover Evoque Convertible Concept is based on the three-door coupe variant and uses an electronically powered soft-top roof with a glass rear screen. The dropped top is tucked away neatly under a plastic cover located behind the rear seats.
What other goodies are packed?
It will come with other goodies such as roll-over protection, surround cameras, park assist, terrain response, infotainment with 8-inch dual view touch screen and Meridian audio system, 21-inch Titan silver wheels and Lunar and Ivory with leather seats.
What changes have they made?
Land Rover engineers have added 75kg of strengthening material to make it rigid at high speed. Being a concept, no plans of putting it into production have been confirmed. If it gets the greenlight, the drop-top variant would attract a price premium of between 10 and 15 per cent over the three-door hard-top Evoque.
When would it go into production?
After Geneva, Land Rover will show the Evoque convertible at the New York Show to gauge reaction in the US market. Whether to put it into production, will only be decided 6 months after the New York premiere. The journey to showrooms would take 24-30 months.