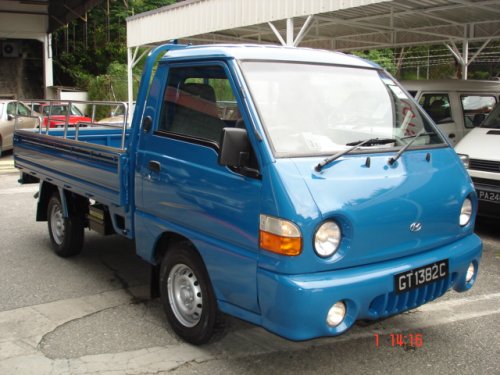 I saw a similar test mule yesterday near the Hyundai factory, but I cannot confirm the make or model.
Some of you might be wondering why we have not been posting regularly in the last one week. While Diwali came and went, visitors, friends and relatives filled my home, preventing me from doing anything other than gossiping, bursting crackers and eating junk food. I've just come out of the festive mood and to make it easier on myself, I did something no other blogger could think of doing - test mule (prototype) hunting!
While it might sound crazy, I can't wait to do it one more time. Using help from my sister, I traveled to the Sriperumbudur stretch, which is about 40 km from I live. This stretch has plenty of automotive suppliers. But the important point is Ford and Hyundai produce their cars from plants which are separated by a short distance.
While I was driving towards a suitable spot, I spotted a Tata Ace-like small-sized truck albeit a bulkier cabin and larger loading area but speeding in the opposite direction. I had just one look at it and I got a feeling it was either from Ford or Hyundai. Despite having three cameras on board, I could not manage any images, but the vehicle looked like what you see above. It sported a red number plate with white letters. I don't know if it is a Hyundai, Ford or a product from some other brand clocking test miles on the road. But it certainly looked like the truck shown above (Hyundai H100).
Standing under the hot sun, I realized how difficult the lives of traffic police and road workers is. Two hours passed and nothing other than trucks, people carriers and speeding passenger cars. Suddenly, on the opposite direction, I spotted the Ford Figo. I did not have the interest to click a picture as we have already brought you high quality images during its media unveiling last month.
If you spot a test mule, please consider taking images and notifying us. You can send in your spy shots to indianautosblog[at]gmail.com. It adds a whole lot of value to Indian Autos Blog.
A test mule is usually painted white. If you find that there are no badges/indications/letters on the boot lid or anywhere else on the car, then you need to look closer. All test mules have a registration plate with red background. The numbers and letters on the plates are in white color. In some cases, test mules have "On Test" board displayed on the front windshield. Sometimes a black or white sticker is pasted over the badges to prevent people from learning which vehicle it is.
Apart from the above, there's the highly secretive manufacturer who just covers the entire car with black cloth and removes headlamps, tail lamps etc. They could also tape the whole car in a zig-zag manner to hide the family lines and curves.
I am already planning my second trip to the Sriperumbudur stretch to see if my fortunes are reversed. I might try and take some sun screen along with cool drinks and snacks to spend a longer duration. I am also planning to use two cars during my next visit, one for each side of the road to expand our opportunities of seeing something the companies don't want us to see.