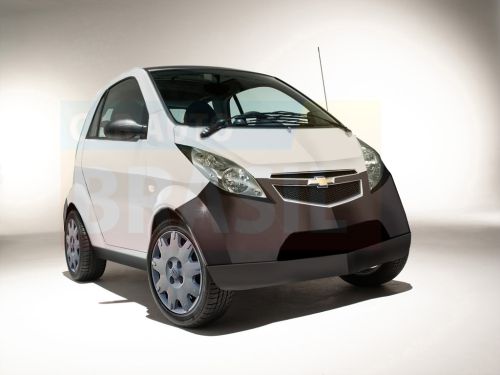 Just an artist's version of the low cost Wuling mini-car that might be sold in India in 2010
We reported on the possible entry of SAIC into the Indian market last month and already reports in the Chinese media suggest the company has taken a controlling stake on GM's Talegoan facility.
The reports say SAIC's first product out of an Indian production line would be a mini car developed by Wuling. Besides the small car, as per Karl Slym, President and Managing Director of GM India, light commercial vehicles would also be manufactured under the JV for our country.
That begs the question - Does this finally mark the first major entry of a Chinese auto brand into India?
Shocker - A report in the media says the mini car jointly produced by GM India and Wuling would roll out of an Indian plant by January 2010!
GM's vice chairman of global product development Bob Lutz, regarding the mini car, in an interview last year -
We move a legacy architecture and parts that have been around for a long time. Then we create a vehicle that's very inexpensive, and it could not be sold in the developed world because it wouldn't meet regulations.
This is very similar to the "Blast from the Past" strategy Ford is deploying in India. By revamping an old Ford Fiesta that is no longer in service, as the Figo, among other things, they save development time and tooling cost. Wuling's small car could come with a bouquet of tried and tested parts, which will also score high on reliability. As Wuling does not have a car in its lineup, it can't be a revamped model.
By mini car do they mean a possible competitor for the Nano? Apart from the highly reputed Spark, GM India's sales chart is a sorry sight. By introducing a small car priced below the Spark, GM is putting an offer on the table that not many will refuse.
The only botheration  - Wuling is a Chinese company and Chinese products have poor reputation in India. By offering something at a rock bottom price, would they overcome that?