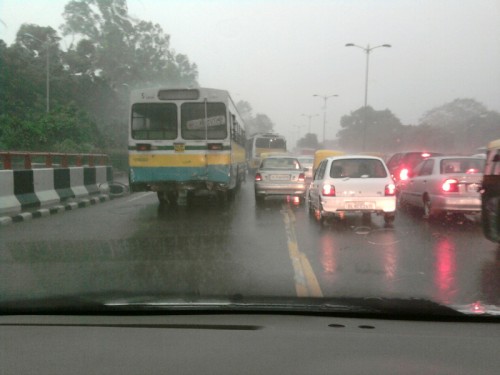 Usually, rain is associated with fun, love, colorful umbrellas, peacock dancing, hot tea (a cigarette if you're a smoker) with some snacks sitting next to your loved one in the balcony. Kids make paper boats and youngsters take to their bikes to enjoy a splash of water on their face - these thoughts amazes and stirs one's soul -  and give a nice simper on our faces.
But when it does rain all these thoughts actually goes down the drain. What you see indeed is the opposite of what rain fraternizes in India, all the beauty love & feelings turns into traffic chaos, people abusing and fighting with each other, roads flooded and traffic stranded.
Yesterday Delhi registered 6mm rainfall and see for yourself what's happening with DTC (world's largest CNG bus service), 17 buses were stranded in a juncture of just 5 km, which resulted in hours of traffic jams.
Few kids lost their lives just because the water entered the school they studied in, which caused stampede.
Very very sad.
This situation is not limited to Delhi only, that's the same in length & breath across the nation.
Why won't the authorities lay proper roads and sort out traffic? Why are they in the list of main culprits every time there's rain. Why can't they allow us to purely experience the joy of a post-shower cruise along our favorite road?