For majority of our readers, the Ford EcoSport is a brand new compact crossover SUV from the Blue Oval which is still eluding the Indian market.
How many of you know that the EcoSport actually a compact SUV which was on sale in Brazil from 2004 and the current one is its successor? So we present you the interesting visual comparison of old and the new which was made by Facebook user Mr. Flavio Arruda.
The old EcoSport consistently sealed a spot in Brazil's top 10 best selling car's list, over 7 lakh copies were sold before the successor came into being. The old and new EcoSport were photographed together by Mr. Arruda, and interesting inferences can be made from them. The old one is based on the platform which underpins the Figo while the new one sits on the new Fiesta's platform.
The front fascia has absolutely no resemblance since the new EcoSport speaks Ford's latest and much younger design language. Coming to the profile, the new gen EcoSport is much more sleeker than the previous generation although the basic design elements can be routed back.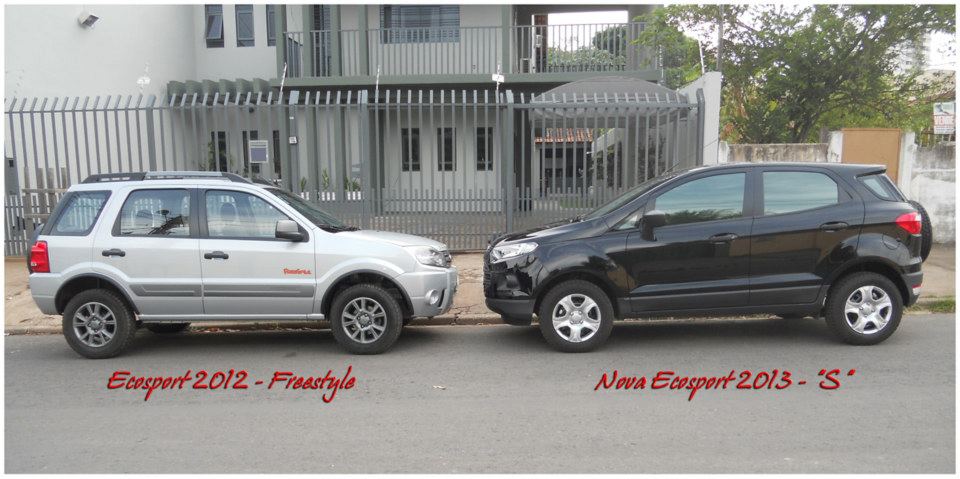 The rear, just like the front is completely different. The old one uses a vertical tail lamp cluster while the current car opts of a edgier horizontal units with the tail gate handle hidden inside.
Unlike the new EcoSport which has its eyes set on many emerging markets, the old one was confined to Brazil and its neighboring countries. Overall it can be said that Ford did a fine job with the second gen Ford EcoSport, there is a huge fan following for this car even here in India where it is yet to launch.
Ford will not launch the old EcoSport in India as the 'One Ford' global strategy does not permit region-specific products or development. What is produced in one part of the world, has to be used around the world.
We all know that the new EcoSport is coming here soon but when is the question that Ford India is not willing to answer.
[Source: Mr. Flavio Arruda's Facebook page]