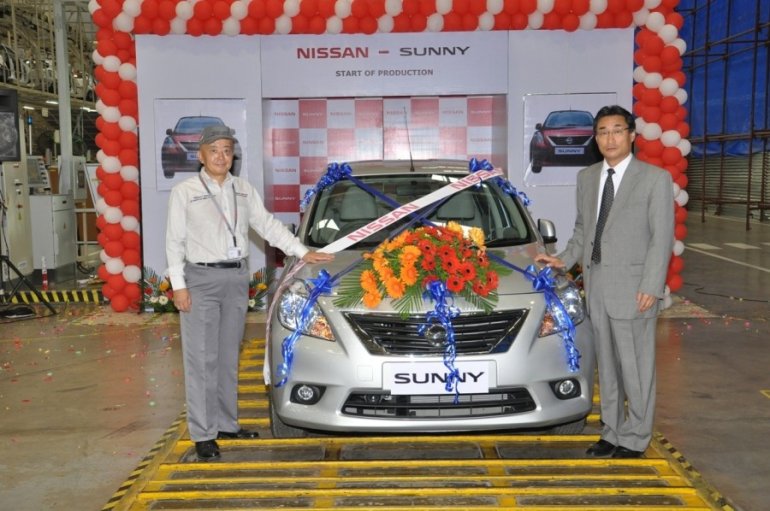 Nissan Motor India Pvt. Ltd. announced that it began production of the Sunny sedan at the Oragadam plant in a press release issued today.
This is Nissan's second car to be completely made in India and the second car to roll out of the V-Platform.
The Sunny was previewed to the Indian media on August 3 and will be launched by the last week of September. 85% of the vehicle is localized out of which 40% is sourced from Chennai. This promises a low price, a key factor if the Sunny has to succeed.
Nissan is pitching the Sunny to young families with plenty of rear seat comfort and an additional AC vent. Click through to read the press release.
Press Release
Nissan Motor India Announces the Start of Production of Nissan SUNNY
Second Made-in-India model produced by Nissan
To be produced at the company's manufacturing plant near Chennai
Chennai, August 30, 2011: Nissan Motor India Pvt. Ltd. (NMIPL) today celebrated the start of production of its 'Made-in-India' mid-size sedan Nissan SUNNY at the company's manufacturing plant at Oragadam, near Chennai. This is the second completely made in India car to be rolled out by Nissan from the Chennai plant in a period of 15 months.
The Nissan SUNNY was unveiled on August 3, 2011 and is being readied to hit the market by the coming festive season. It is manufactured with 85% local content of which 40% of the components are sourced from Chennai. The sedan is expected to appeal to young families looking for a medium sized sedan that combines a dynamic upscale design with the space, quality and features associated with the Nissan brand.
Commenting on the achievement, Mr. Kiminobu Tokuyama, Managing Director and CEO, NMIPL. said, "Start of production of Nissan SUNNY is another significant milestone for Nissan in India. We wanted the mid-size sedan to be available during the upcoming festival season and we successfully accelerated our work program to make that schedule. Nissan SUNNY will help to leverage our position as one of the key players in the Indian market".
Speaking on the occasion, Mr. Kou Kimura, CEO and MD, Renault Nissan Alliance India Pvt Ltd (RNAIPL) said, "Today's start of production of SUNNY reinstates Nissan's commitment to India and is the second of many other local products to come. It highlights the high-performance level of our state of the art plant, which is producing its second model in less than 15 months".
The new Nissan SUNNY made its international debut at the 8th China (Guangzhou) International Automobile Exhibition in 2010 and later in the US. The SUNNY is the second model built on Nissan's all new V-platform.