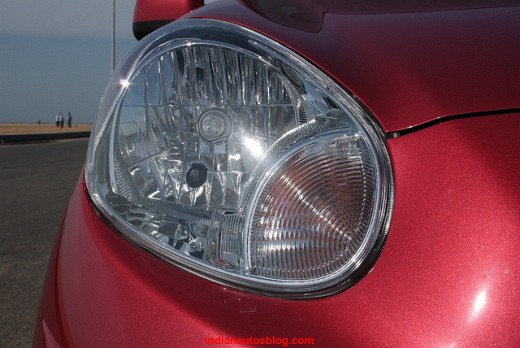 Nissan has managed to sell 1,182 Micras in the Indian market last month. The company began its journey in July and in 15 days was able to deliver about 1,000 cars.
The majority of the Nissan Micra buyers have opted for the top-end (XV) model and forced Nissan to alter the schedule at its production plant. 3,600 Micras have been booked thus far in India and with an increasing dealership count and presence on the road, the Micra is destined only for bigger numbers in the coming months.
Press Release -
Nissan India registers 1249 nos total sales in August 2010
· Nissan Micra achieves sales of 1182 units;
· Overwhelming demand for top variant (XV) encourages company to re-align initial production schedule
· Nissan Micra order book progressively increasing; around 3600 nos
Chennai/Mumbai, September 1, 2010: Nissan Motor India Private Ltd (NMIPL) today announced that it has registered total sales of 1249 nos for the month of August 2010 as against 22 nos in August 2009.
Out of the 1249 nos, the sales of the new Nissan Micra were 1182 units in Aug 2010 as against 928 nos sold in July 2010. Out of the remaining, Nissan Teana, the luxury sedan (CBU) clocked 21 nos in Aug 2010 as against 10 nos in Aug 2009 and Nissan X-trail; the lifestyle SUV (CBU) registered sales of 44 units as against 12 nos in Aug 2009. Nissan also sold 2 nos of its iconic sports car, Nissan 370Z in Aug 2010. So far, the company has already sold 4 units of 370Z since its launch in January this year.
In August 2010, owing to the overwhelming demand for the top-end variant of Nissan Micra (XV) - almost over 65%, the company was encouraged to re-align its initial production schedule to cater to this growing need. This has led to increase in the delivery period, which the company hopes to control and manage in the coming months. The company has also started second shift of production in August 2010 at its manufacturing facility at Oragadam, near Chennai to cater to the demand between domestic and exports. The company is expected to commence its exports during this month.
The top variant of Nissan Micra boasts of category first features such as keyless entry (i-key), push-button engine start-stop system and electric foldable mirror. Another unique feature is the intelligent multi-display meter, which supplies drivers with real time fuel economy information, cruising range and outside temperature. In addition, the driver power windows are fitted with 'one touch up/down' feature along with a pinch guard. Nissan Micra also comes equipped with category first driver airbags across all its variants.
The sales order book for Nissan Micra has been progressively increasing and the company has received around 3600 bookings. With the increasing footprint of its dealership network, the company hopes to have a far-reaching impact across the country, thus providing more and more customers the joy of an ownership experience of Nissan products and services.
The Nissan Micra comes with a standard manufacturers' warranty of 2 years/50,000kms (whichever is earlier). In order to understand customer needs and resolve their queries, Nissan has established 'Nissan Care' – A Customer Contact Centre. Customers can reach Nissan by dialing Toll-free No 1800-209-4080 or alternatively by writing an email to customercare.hai@email.nissan.in
As part of its after-sales commitment, in an effort to handhold the customers and provide them with round-the-clock assistance, Nissan has introduced a host of customer care and service schemes including Extended Warranty and Roadside Assistance for its products starting with the Micra.