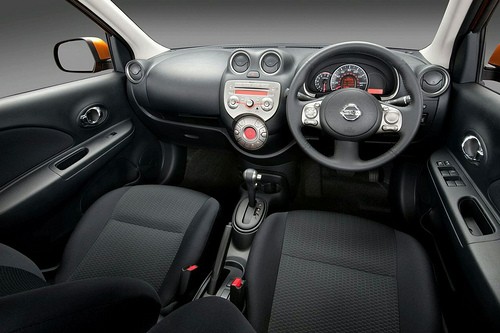 The new Micra's dashboard is well laid out, but price is not going to be less
Here at IAB, we're not very sure about the size of the new Nissan Micra. We're expecting it to be slightly bigger than the Chevrolet Beat. Wheelosphere is reporting that India gets a detuned petrol engine that delivers better fuel economy, black interiors, ABS, Airbags and push-buttom start. All the other gizmos will be there, but those fully loaded cars will be on ships sailing towards other countries.
Colin Dodge, Executive Vice President, Nissan Motor Company -
There are some strange things going on in India with some companies entering into a price war. I can tell you that's not the road we want to go down. We won't sell our Micra cheap and if that is not accepted in India then we will ship them to some other market where people are willing to pay for them
I can't agree more with what Wheelosphere has published on their blog. Listen to what they've said
Wheelosphere -
Now, the million dollar question – Will the Micra sell in India? The bland looks, poor dealership network take the game away although the quality, powertrain refinement and ride quality balance that, which leaves us with the price – if priced well (which is highly improbable considering Colin Dodge's remarks), the Micra could succeed in India, otherwise Nissan might just remain a spectator while other brands take over the market.
I don't think Nissan is equipped to handle success in India. Their dealership network is not very strong and indications of normal pricing give rise to many doubts. Nissan should ramp up their dealer network and introduce the diesel model as early as possible.
New Nissan Micra Image Slideshow
unable to view the slideshow? visit the New Nissan Micra Image Gallery directly
Source - Wheelosphere