The Nissan Leaf Aero Style (production model) has debuted at the 2013 Tokyo Motor Show. Donning a Dark Metal Grey paintwork, the vehicle launches in Japan next month.
The track-inspired version has a shape that is sportier which Nissan say gives it a special feel. Sharing the standard Leaf's powertrain, the car gets an exclusive front bumper, LED daytime running lights, side sill projector, underbody protector, 17-inch aluminium alloy wheels and special blue accenting.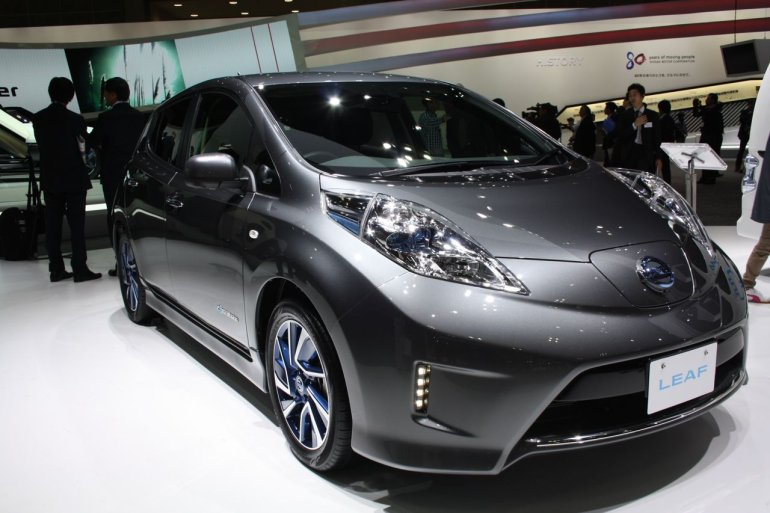 Nissan has sold 83,000 Leafs around the world and the Aero Style, retaining the core values of the Leaf, but with added visual oomph,is expected to bring incremental volume to the brand.
Executive Vice President of Nissan, Takao Katagiri, responsible for the Japan-ASEAN region said -
Since the release of the Nissan LEAF in the year 2010, Nissan has brought no tailpipe emissions, pure electric vehicles to the general public, and in the process, contributed to a cleaner and more efficient society. The car's popularity has been extraordinary, with global sales already reaching 83,000 units (TBC) and counting. We hope you look forward to the introduction of the Nissan LEAF Aero Style that will retain all the important virtues of the cutting-edge LEAF, but adds a high level of excitement that will surely satisfy all of our customers.
Nissan Leaf Aero Style Image Gallery
Nissan Leaf Aero Style - Press Release
[Head to Slideshare if you're unable to view the document above.]