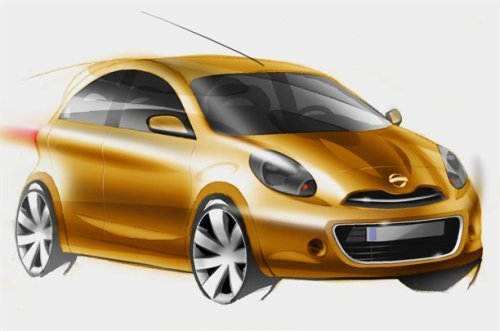 IAB has learned that Nissan is making excellent progress on a new small car using the Micra's V-Platform. Codenamed K2, the new Nissan model is aimed squarely at the Maruti Wagon R and Hyundai i10, a segment below the Micra's, IAB can reveal.
Nissan is said to be discussing a mid-2013 launch for the toddler soon after the Evalia reaches a good position. It is a crucial model for Nissan to expand its presence in India as the Micra's price prevents it from taking the fight to Maruti and Hyundai in the lower segments.
Nissan's sole major launch in 2012 is the Evalia. It is a year of consolidation and the beefing-up of dealer network to prepare a launch pad for the inexpensive model's entry.
The K2's looks will be along the lines of the Micra. We don't have a sketch to share at this time, but imagine a Micra with a smaller footprint. Many components on the interiors will be common. Seats, controls and parts of the dashboard can easily be used on the mini Micra and due to scale, costs will not rise.  The 1.2-liter three pot petrol engine is expected to provide drive while a smaller version of the 1.5-liter dCI (a three-cylinder version possibly displacing 1.2-liters or less) is also learned to be in the works as India desires diesel engines even on smaller B cars. Nissan can use the 1.5-liter though one feels this its too big for a car of the Hyundai i10's size.
Real world testing of the inexpensive Nissan will begin by the end of August. The model is believed to be developed specifically for the Indian market though Nissan will study neighboring countries for market feasibility once the local demand is met. The K2 variant family will be squeezed between 3-4.5 lakh rupees.
The second part of the story is Renault's interest in this vehicle. Surely Renault can't be a badge-engineered Nissan in India. They have to bring cars that have their own personality. We're certain Renault will use the same vehicle with their own body panels to extend their presence under the Micra but the big question is how much will change?