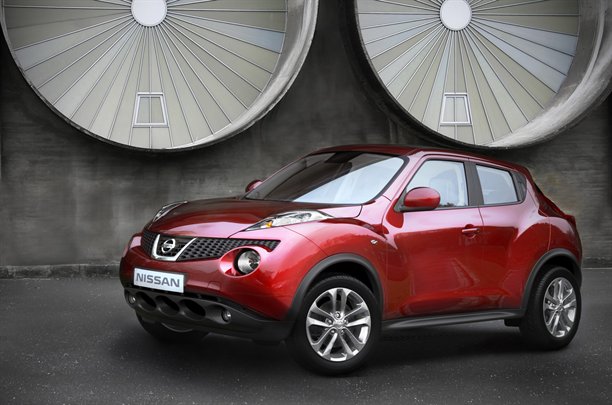 The Nissan Juke, unveiled at the Geneva Motor Show in March 2010, has been launched in Japan at 8.71 lakh rupees. The Juke is the smaller crossover in Nissan's line-up (consisting of Qashqai and Murano) which uses a 1.5-liter diesel engine making 114 PS and 150Nm of torque.
What about its chances in India? We're confused, so a monologue was in order.
Pessimism -
This 1.5-liter, 4.1 meter long mini SUV won't make in-roads in India even if it is brought in as a CKD. The only viable option would be to manufacture it locally bringing the price of the vehicle to around 10 lakh. For 10 lakh rupees, would one go for the tried-and-tested Mahindra Scorpio or a mini SUV like Juke? The decently equipped Tata Safari variant is also not a long way away from this price band. Remember, Nissan is a company that is literally unheard of for affordable passenger/utility vehicles in India.
Conclusions from studies conducted in India might have prompted them to develop a mini SUV on the cheaper V-Platform.
Optimism -
I mean, look at that thing. Have you seen something like this before? With those curves, it could serve as a Kim Kardashian double in Hollywood. It's a cartoon character for the GenNext. A cartoon character that's grown up into a young and admirable Hollywood star. How long are we going to buy the age old Scorpio and Safari? Isn't change good?
Based on the Nissan B-Platform, it shares underpinnings with cars like the Renault Duster which is developed for BRIC countries. If that can come to India in 2012, why not this? Nissan, why are you having second thoughts? I want mine in cherry red.
Press Release
Nissan Releases All-New JUKE Compact Sports Crossover

YOKOHAMA (June 9, 2010) - Nissan Motor Co., Ltd. announces the Japan launch of the all-new Nissan JUKE compact sports crossover, which goes on sale today at Nissan dealers nationwide.
JUKE 15RX

JUKE 15RX

With the arrival of JUKE, Nissan ushers in a new genre of vehicles, the compact sports crossover. Developed for the global market, JUKE's unique styling offers a new look in the compact category, combining the agility of a compact sports car with the security and toughness of an SUV. From its sporty front and rear lights to its large, imposing fenders, JUKE stands out with bold design and strong imagery.

The JUKE name is equally original. Derived from an American football term used to describe a quick or sudden move taken by a running back to avoid a defensive player's tackle, the name was chosen to showcase JUKE's ability to deftly negotiate the challenges of work and everyday life.

JUKE also breaks new ground in offering the world's first mass-produced 1.5-liter engine (HR15DE) with dual injectors. Along with its standard new-generation Xtronic CVT™ transmission and rigid suspension, JUKE provides smooth acceleration, superior handling, improved driving stability and a comfortable ride.

All JUKE models have a low mileage consumption of 19.0km/L, a 15% improvement on 2010 mileage standards and 75% lower than 2005 emission standards (SU-LEV). This qualifies JUKE for the tax exemption for environmentally friendly vehicles*1, which provides for a 50% reduction of both new vehicle acquisition and weight taxes. In addition, functions like the combined mileage display and navigation system, Eco Drive mode with CVT, and low consumption cabin climate control all support a fun, eco-friendly driving experience.

The new "Intelligent Control Display," a versatile multi-function information system, is another first for Nissan vehicles. The system provides updated driving information, such as mileage, and acts as central control panel for cabin environment and for dynamic drive settings. JUKE drivers can use the control panel to easily switch between three available driving modes: Normal, Sports and Eco-drive.

A Tough, Agile Exterior Design
JUKE's dramatic exterior styling projects an image of toughness and agility. Its raked front pillars allow for a large windshield area for improved all-around visibility, while its taut upper canopy with sloped rear roofline combines with its muscular lower body sides to emphasize its strength and sportiness. Embedded rear door handles, "hidden" in the rear pillars, emulate the design of a 2-door sports coupe.

One of the most distinctive features of the JUKE exterior is the unique headlight treatment, which utilizes large, rounded headlights mounted low in the nose and thin, high-mounted "slash" auxiliary lights mounted higher on the hood edge to create a radical, rally car-inspired appearance. The rear combination lights also project JUKE's sporty intentions, mimicking the sleek boomerang-like form found on the iconic Z® sports car.

The JUKE is available in seven exciting new colors, including "Radiant Red" (Pearl Metallic) and Meteorite Brown" (Metallic).

An Aggressive, Highly Functional Interior
JUKE's interior design is equally inspired, combining the mechanical aspects of a precision instrument with the free flowing feel of a living organism. Innovation and high functionality are evident throughout - from the motorcycle tank-like center console and smooth door finishes to the motorcycle cylinder inspired meters, floating instrument panel visor and sporty center cluster. Even the door trim design, with its distinctive diving fin look, adds to the JUKE's sporty personality, enhancing the feeling of connectedness that the driver and passengers have with the vehicle.

JUKE's compact sports crossover design also adds a level of packaging efficiency not found on other compact vehicles. Its higher ride visibility and large windshield allow for a much broader view of the road and surrounding environment, with the design of the hood and front combination lamps giving a nearly unobstructed view for the driver, helping enhance maneuverability. The high shift lever and parking brake position and easily accessible audio control panel contribute to the comfortable driving position, while the sporty seat design helps secure the driver and front passenger during spirited driving.

Another unique feature debuting on JUKE is the Intelligent Control Display (standard on JUKE 15RX). This newly developed intelligent control display features a versatile, multi-colored information system that provides real time driving information and a host of other options, which allow the driver to alter both dynamic drive mode settings and climate control. In Drive Mode, both engine and CVT transmission performance can be adjusted to fit any driving of three moods. Normal Mode gives balanced strength in acceleration and control. Sports Mode allows drivers to enjoy sporty and responsive control, while the Eco Mode provides improved fuel efficiency and efficient use of the air conditioning.

The control panel utilizes a newly developed switch that employs a special filter with two-color LED lamps. Selection switches for Air Conditioning and Drive mode are easily accessible in the panel. The display and switches automatically configure according to which function is selected, showing information such as cabin temperature, air conditioner control, torque, engine power and fuel consumption.

Also available is an optional Carwings Navigation System (Digital Internal HHD) with advanced mapping update system, fastest route calculation function, built-in digital tuner with automatic signal tuning (12 SEG/ 1SEG) and an iPod®*2 compatible entertainment system. The system's Real-Time Driving Information, curb size calculation and tollgate distance information helps calculate engine braking power, fuel use reduction and improved fuel-efficient transmission control via assistance from the navigation system.

An Advanced, Fuel Efficient Drivetrain
JUKE is equipped with an improved HR15DE engine. Already known for its great performance and reliability, this latest version offers better fuel efficiency and torque at low and medium speeds. Power is rated at 84kW (114 PS) at 6,000 rpm, with max torque rated at 150N?m (15.3kgfm) at 4,000 rpm. Switching between city and highway driving is easy, with no compromise of comfort, performance or acceleration.

The engine is quipped with the world's first mass-produced dual injector system, which has two injectors per cylinder - each with a smaller nozzle to deliver finer, more closely targeted sprays of fuel into the cylinders for more efficient atomization and complete combustion. Variable Valve Timing (CVTC) for both intake and exhaust also contribute to improved fuel economy.

JUKE also features a new Xtronic CVT™ design that combines the efficiency of a Continuous Variable Transmission with a new 2-speed sub-gearbox system, resulting in a 20% improvement in gear ratio over conventional CVT systems - along with better acceleration, good response and quieter operation at high speeds. In addition to the sub-gearbox, the new design utilizes smaller and lighter pulleys, a flexible lock-up damper and a more fuel-efficient oil pump to promote greater fuel efficiency. And, its improved gear ratios, smaller and lighter pulleys and reduced oil resistance give it 30% less friction than conventional CVTs.

The new JUKE will also be offered with an all-new 1.6-liter engine (MR16DDT) equipped with a compact turbo charger, which combines good fuel efficiency with the power equivalent to a 2.5-liter engine (available from this autumn). MR engine equipped models will be available in 2WD and 4WD configurations. 4WD versions feature ALL MODE 4x4i with a newly developed torque vectoring system, which applies optimal torque distribution control of the rear wheels to enhance agility and cornering feel and reduce understeer when cornering.

Platform, Body and Suspension
Based on the proven B-platform, JUKE's layout and structure was optimized while maintaining rigidity and vehicle weight. The large wheelwells have an improved capacity, allowing for use of wide P215/55R17*3 sized tires. The larger tire tread provides for enhanced driving stability.

JUKE's front suspension design is the first B-platform application to use a cradle-type subframe. The suspension mounting points utilize two key locations in the front and back for enhanced suspension rigidity. A rigid torsion beam suspension is used in the rear. The combination of high performance shock absorbers, rigid suspension and high stability helps JUKE achieve its responsive sporty driving feel and good steering control during cornering. In addition to improved ride and handling, road noise and vibration have been significantly reduced, helping provide for a quiet ride.

Additional Safety and Eco Technologies
The all-new JUKE includes an array of safety and Eco technologies, including:

* Auto light system (linked front wipers, dawn sensors) (Standard feature on JUKE 15RX)
* Optimum light distribution, multi-reflector halogen headlights (manual control)
* Xenon headlights (with low beam/auto-control) (Optional on JUKE 15RX)
* RearView Monitor (color view monitor with predictive width/ length readout and grid function display) (Optional)
* Rear windshield wiper
* High Mount Stop Lamp
* Brake Assist
* ABS (Anti-lock Braking System)
* EBD (Electronic Brake force Distribution)
* High-strength body construction
* Body construction for pedestrian protection
* SRS air bag system for driver and front passenger
* SRS side air bag, curtain air bag system for driver and front passenger
* Active head restraint for front passenger seats
* 2-stage road limiter equipped double pretensioner seatbelt for driver (shoulder and waist area)
* 2-stage road limiter equipped pretensioner seat belt for front passenger
* Emergency Locking Retractor (ELR) 3-point seatbelts for all seats
* Rear seat headrests (3)
* Achieves SU-LEV certification by emitting 75% fewer exhaust emissions than 2005 standards
* Achieves 15% improvement in fuel economy over 2010 standards
* 95% recyclability rate based on 1998 Guidelines for definition and calculation method on the recyclability rate for new vehicles provided by JAMA
* Mileage display function

Sales target: 1,300 units/month
Price range: 1,690,500 yen to 1,790,250 yen, including consumption tax
Sales launch events: June 12 (Sat.) - 13 (Sun.), 19 (Sat.) - 20 (Sun.), 2010

1. *1: 75% lower than 2005 emission standards (SU-LEV) and 20% or 15% fuel efficiency based on 2010 standards.
Automobile acquisition tax for new vehicles registered until March 31st 2010 will receive a 50% reduction.
Automobile weight tax for new vehicles registered until April 30th 2012 will receive a 50% reduction.

Nissan promotes environmentally friendly vehicles that meet government tax incentives under its Nissan ECO (NECO) series. Currently there are 20 models as of June 6th 2010. Models are :?Moco??Otti??Roox??March??Note??Cube??Tiida??Tiida Latio??Wingroad??Serena??Juke??Dualis??X-Trail??Lafesta??Skyline Sedan??Fuga??AD/AD Expert??NV200 Vanette??Atlas F24??Atlas H43?.
2. *2: iPod is a registered trademark of Apple Inc in the United States and in other countries.
3. *3: P215/55R17 size is optional for 15Rx. Standard option is P205/60R16.