Moments ago, Nissan lifted the veil on a new concept that was teased using tightly cropped images last week. Nissan's chief designer termed the design "dramatic" and the birth of something special.
We suspected this would be a compact SUV, a sort of a low-cost Juke, that plays the Duster's role in Nissan's portfolio.
The Nissan Extrem Concept has just been unveiled at the Sao Paulo Auto Show, and our friends from NoticiasAutomotivas.com.br, who are covering the show live, brought this to our notice.
The Nissan Extrem Concept was created to appeal Brazil's city-based young professionals out to make a personal statement. The two-door 2+2 Concept was made at Nissan Design America (NDA) in San Diego, California, in collaboration with Brazilian designers. The EXTREM is a new genre that Nissan calls urban compact sports car.
The headlamps and tail lamps feature Nissan's signature graphics and LED technology. Nissan says there's no immediate production plans for this model and the design features here could end up on Nissan's future models in Brazil and beyond.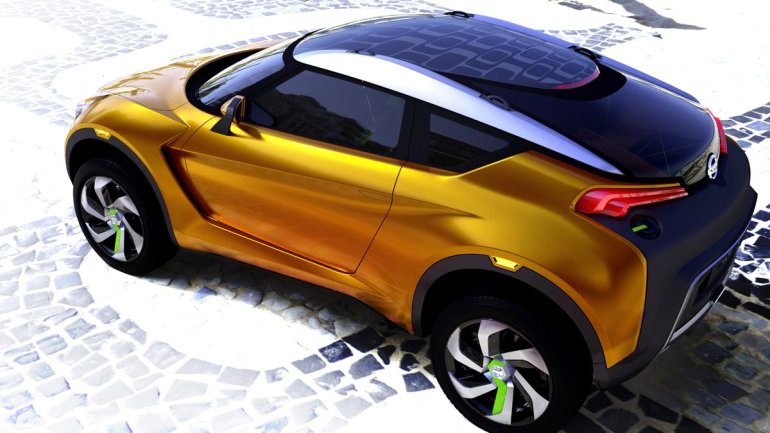 The Nissan Extrem concept is powered direct injection and turbocharged (DIG-T) 1.6-liter gasoline engine. If it enters production, it will sit on the V-Platform (Micra platform) and position wise, serve as the base model of Nissan's crossover range.
Do the design features of the concept preview Nissan's version of the Duster? We hope Nissan India don't give us a rebadged, new-lights Duster and market it as a Nissan. A car like the Extrem, even if it look half as good, is a sure-shot success achiever for India.
[Source - NoticiasAutomotivas.com.br]