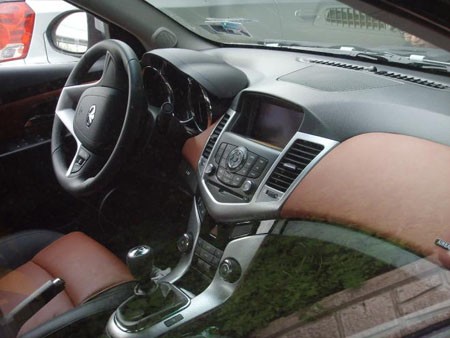 The next gen Optra is to make its International debut in October this year at the Paris motor show. It is expected to arrive in India in 2009. In the Indian market, the new car will be rebadged Cruze and will sell alongside the present Optra.
Looking at the spy shots, the Cruze is sharply styled and slots in a segment higher than the current Optra, bang into the Civic territory. It is significantly larger than both the Civic and the new Corolla. It bears strong family resemblance to its brother,the Epica. The interiors are very good looking, and looking at the spy shots,it is quite a stunner ! It is expected to have higher levels of comfort and quality, being in the league of its European rivals. Considerable time has been spent on honing the ride and handling to bring it up to levels with its German rivals which is evident from its testing at the Nordschliefe Nurburgring.
It is expected with 2 engines. A 1.8 petrol with around 130bhp will be available. This is an all new motor and not the outdated Holden unit present in the previous car. The big performer however is expected to be the 2.0 TDCi incorporating a Variable Geometry Turbo with 150bhp!!! Now that makes it a hot car and it could easily outrun the Jetta, Laura and even the base Auti A4 with 140bhp.
The Cruze is the first car to roll out of GM's spanking-new facility in Chakan and this is the tip of the iceberg. More expected from GM. Stay tuned