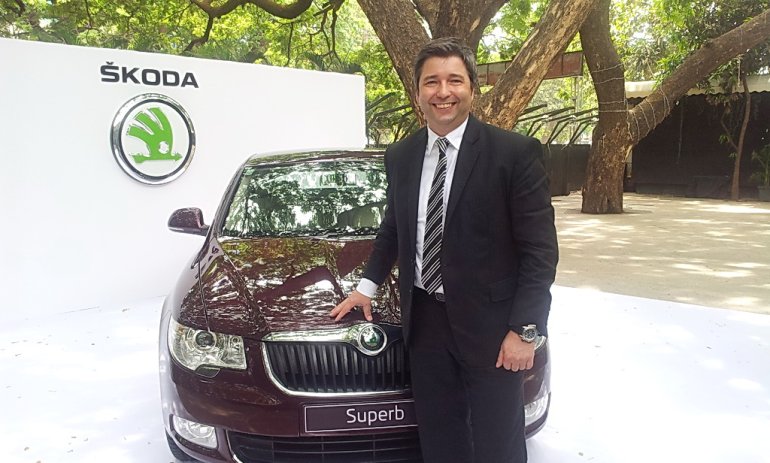 Thomas Kuehl has been leading the Indian operations of Skoda for over two-and-a-half years now. Recently, the IAB Team caught up with him at the Superb Ambition launch to discuss Skoda India future. Here is what he had to say:
1) Skoda as a brand is changing its image. What's in-store for the future?
We are working hard to bring something fresh and new to the table. We are going to change the whole appearance of Skoda. The new design language of Skoda, the Mission L, is a start. We have a new logo and its fresh and bright. We will have a new appearance of dealerships with new modular systems and new processes in place. It is done to cater to our slogan – 'Simply Clever'
We will see some very fresh new products which will instill our philosophy – Clever engineering with a human touch. They will be very comfortable, very warming, safe and fun to drive. Some interesting features which we are working on include having umbrella in the door and paper clip to hold your parking tickets and things like that. These kind of small innovations will differentiate Skoda from other brands.
2) Has Skoda India taken a decision on bring the Citigo to India?
At the moment no decision has been taken. It is in the clouds. We will obviously bring in cars in all segments that we are not present in. But everything has to be feasible and everything has to fit in our philosophy and quality of the brand. But it is too early to talk about the Citigo now.
3) Is the Octavia nameplate coming back?
Yes, the Octavia brand is a very important for Skoda India. All our existing Octavia customers are very satisfied with their cars. We will definitely want to use the brand in the future. It is too early to talk but we will definitely see the Octavia nameplate coming back to India.
4) Are you planning a Rapid with CNG or LPG?
We are working with VW India on one of these fuel options for the Rapid. I know that you can fit these kits aftermarket but that takes a toll on warranty. We will soon some out with something in this area.
5) How is Skoda India managing the rapid dieselification of the market?

Yes, Skoda India is getting higher demand for diesel products. I think that is because of psychological reason owing to the price difference in diesel and petrol. Very often, people  don't drive as much miles to get the maximum advantage of a diesel car. I see that in the future we will have a 60-40 split between diesel and petrol.
6) Like the Skoda Superb Ambition, are you also planning a cheaper Yeti?
Very difficult to say. I think we have a good offer on Yeti. It not just price, it also styling and technologies. If I take the technology out of the Yeti then I will be able to reduce the price. But our clinic results show that people actually want to have all these features and are willing to pay a premium for it.
Yeti caters to a different customer group. I understand that a cheaper Yeti will make a lot of noise in the market. But I think the customer is smart enough to differentiate between value proposition and cut-price variant.
The Rapid is a sedan that will be customized according to market requirements. India is the first country in which Skoda launched the Rapid. But it will be also launched in Russia, China, Europe and they will be customized for each markets.
The European Skoda Rapid will be the first car to feature all the elements of Mission L design philosophy. It will be fresh and new. The European version will have a different configuration to the Indian one. We are also analyzing the potential of the European Rapid in India.
8 ) So if the European Rapid is launched in India, will it sit above the Indian one?
No. May be an extension to the Rapid Brand.
9) How does MQB platform benefit Skoda?
When we are speaking platforms, we are speaking cost efficiency and economies of scale. Being part of the VW group, we share a lot of technologies with them. But our engineering is different. So we will take the best of the MQB platform and we will develop our own products with our own design language and that's how Skoda will benefit out of it.