While we have been discussing whether the Mitsubishi Mirage should come to India, the Japanese automaker has started the production of the Mirage in Thailand. It will be produced at the company's brand-new factory at Laem Chabang. The Mirage is a very important car for Mitsubishi because it replaces the old Colt hatchback in numerous markets.
The Mirage will be on sale in Thailand next week and later will be exported to other Southeast Asian countries followed by Japan, Europe and other markets around the world. In the Thai market the Mirage will be priced between THB 380,000 to 551,000 (approximately 6 - 9 lakhs).
It is powered by a 1.2-liter four-cylinder engine that makes 78 horsepower. You can opt in for a CVT transmission or a five-speed manual gearbox. Standard features include a navigation system, a Bluetooth Smartphone connectivity system, and a dash-mounted touch screen.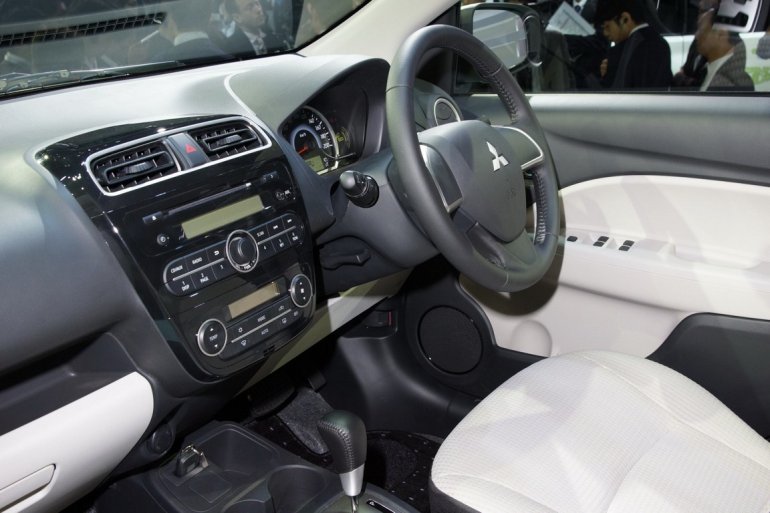 This Mitsubishi Mirage is designed and engineered with fuel efficiency and low emissions in mind. It features a start-stop system along with low-friction tires. It can run on pure petrol or a mixture of petrol and ethanol. Mitsubishi claims a class leading fuel economy of 30kmpl.
There is no official confirmation on whether the Mirage will come to the Indian landscape. While Mitsubishi is contemplating on making India their small car hub, they are yet undecided whether they should do it alone or with their existing partnership with Hindustan Motors.
However, if Mitsubishi starts manufacturing Mirage in India, it can export it to the nearby markets such as Sri Lanka, Bangladesh, Pakistan, Bhutan and Nepal. There are plans to develop a sedan on the same Mirage platform as well.
[Source: Carscoop.blogspot.in]