The Audi A3 Sedan finally has competition in India as the Mercedes CLA Class was launched yesterday. Here's what an on-paper comparison between the two looks like.
On paper, the CLA is longer in length and wheelbase and taller than the A3 Sedan, despite its coupe-like design. This also means that the CLA sports a larger boot at 470 liters, while the MQB-based A3 Sedan gets a 425 liter boot.
Diesel -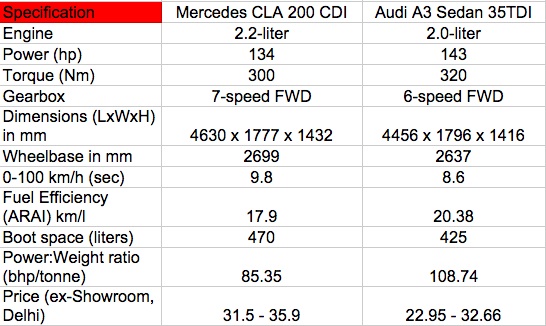 The CLA is powered by a 2.2-liter engine whereas the A3 Sedan uses a 2.0-liter unit. The A3 puts out more power and torque, and is hence quicker to the dash to 100 km/h. Not only that, thanks to its lighter weight, the A3 Sedan's power-weight ratio is a respectable 108.74 bhp/tonne whereas the CLA looks paltry in comparison at 85.35 bhp/tonne.
The CLA uses a 7-speed dual clutch transmission while the A3 puts its power through a 6-speed unit. Despite this, the A3 is more fuel efficient compared to the Merc.
The A3 range starts at INR 22.95 lakhs (pre-excise duty hike rates as Audi is yet to update the prices) though the base variant misses out on even basic features like climate control. Even if we were to compare the top-end trims, the Merc comes across as INR 3.24 lakhs more expensive. It is to be noted that the CLA at the moment is a CBU product, whereas the A3 is assembled in India.
Petrol -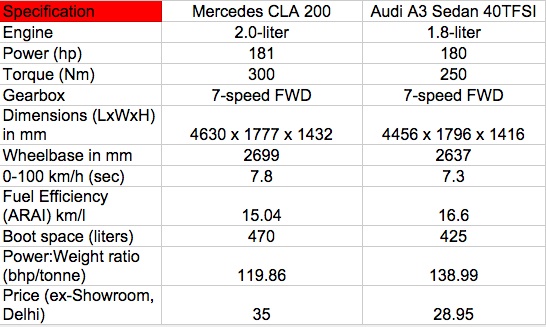 Where the CLA is powered by a 2.0-liter engine, the A3 Sedan uses a 1.8-liter engine. Power outputs of both cars are comparable but the CLA makes 50 Nm more torque. The heftier CLA loses out in the power-weight ratio department once again, and is also slower to 100 km/h by 0.5 seconds.
Both cars use a 7-speed dual clutch transmission, though the Audi, thanks to its lighter weight is more efficient. While the CLA petrol is priced at INR 35 lakhs, the A3 petrol costs INR 28.95 lakhs.