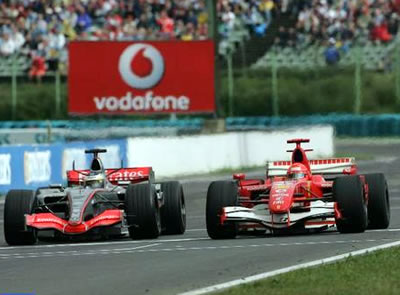 Ferrari's Felipe Massa has been declared the winner of Sunday's Belgian Grand Prix after McLaren' Lewis Hamilton was handed a 25-second time penalty following the race. Hamilton drops to third as a result, with BMW Sauber's Nick Heidfeld moving up to second place.
Hamilton was penalised after stewards decided he had gained an advantage by cutting the final chicane in his late-race battle with Ferrari's Kimi Raikkonen.
The decision means that rather than extending his championship lead over Massa, Hamilton now sees it cut, with the Brazilian trailing the Briton by just two points, 76 to 74, with five races remaining.
Read on for race results from F1.com
2008 FORMULA 1 ING BELGIAN GRAND PRIX
| Pos | No | Driver | Team | Laps | Time/Retired | Grid | Pts |
| --- | --- | --- | --- | --- | --- | --- | --- |
| 1 | 2 | Felipe Massa | Ferrari | 44 | 1:22:59.394 | 2 | 10 |
| 2 | 3 | Nick Heidfeld | BMW Sauber | 44 | +9.3 secs | 5 | 8 |
| 3 | 22 | Lewis Hamilton | McLaren-Mercedes | 44 | +10.5 secs | 1 | 6 |
| 4 | 5 | Fernando Alonso | Renault | 44 | +14.4 secs | 6 | 5 |
| 5 | 15 | Sebastian Vettel | STR-Ferrari | 44 | +14.5 secs | 10 | 4 |
| 6 | 4 | Robert Kubica | BMW Sauber | 44 | +15.0 secs | 8 | 3 |
| 7 | 14 | Sebastien Bourdais | STR-Ferrari | 44 | +16.7 secs | 9 | 2 |
| 8 | 10 | Mark Webber | Red Bull-Renault | 44 | +42.7 secs | 7 | 1 |
| 9 | 12 | Timo Glock | Toyota | 44 | +67.0 secs | 13 | |
| 10 | 23 | Heikki Kovalainen | McLaren-Mercedes | 43 | +1 Lap | 3 | |
| 11 | 9 | David Coulthard | Red Bull-Renault | 43 | +1 Lap | 14 | |
| 12 | 7 | Nico Rosberg | Williams-Toyota | 43 | +1 Lap | 15 | |
| 13 | 20 | Adrian Sutil | Force India-Ferrari | 43 | +1 Lap | 18 | |
| 14 | 8 | Kazuki Nakajima | Williams-Toyota | 43 | +1 Lap | 19 | |
| 15 | 16 | Jenson Button | Honda | 43 | +1 Lap | 17 | |
| 16 | 11 | Jarno Trulli | Toyota | 43 | +1 Lap | 11 | |
| 17 | 21 | Giancarlo Fisichella | Force India-Ferrari | 43 | +1 Lap | 20 | |
| 18 | 1 | Kimi Räikkönen | Ferrari | 42 | Accident | 4 | |
| Ret | 17 | Rubens Barrichello | Honda | 19 | Gearbox | 16 | |
| Ret | 6 | Nelsinho Piquet | Renault | 13 | Accident | 12 | |