Since the start of operations on January 30th this year, Maserati's new Avv. Giovanni Agnelli plant in Grugliasco, Turin, has built its 10,000th vehicle. This milestone is quite an achievement for Maserati when you factor in that in 2012, the brand sold only 6,200 cars in all! The milestone vehicle was a grey Ghibli.
The Grugliasco plant currently builds Maserati's two luxury sedans, the Quattroporte and Ghibli. The facility is capable of a daily production of about 140 cars of both models, as it operates on two daily shifts. Since the start of production, this plant has built 8,200 units of the Quattroporte and 1,800 units of the Ghibli. Production of the Ghibli began at the end of July.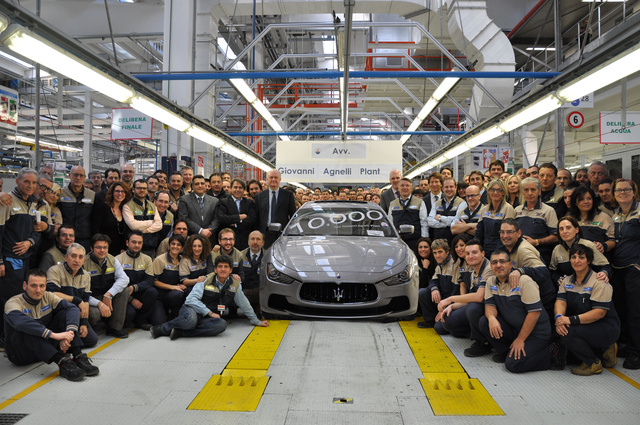 The Grugliasco plant is Maserati's second production base, the first being the iconic factory in Modena.
Maserati targets to sell 50,000 vehicles per annum in 2015. The company's targeted eight-fold sales increase (compared to 2012's sales) will be driven by the new Ghibli - which for the first time in the history of Maserati offers a diesel engine - and the upcoming Levante SUV.
Now for the funny bit. As reported by several of our friends, the official image released by Maserati which you see here is photoshopped! No, Maserati did not use Photoshop to edit the lighting, or the color, or the sharpness, etc. Maserati is believed to have used Photoshop to add the Ghibli to this image!