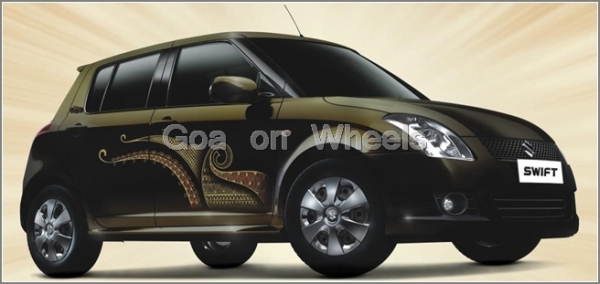 By Kaustubh Shinde
It seems that Maruti is celebrating anything and everything that comes its way. Few days ago they launched the Ritz Genus to commemorate the first anniversary of Ritz. Not even a week has gone by and they are at it again with the Swift 'One Million Edition'.
Maruti-Suzuki achieved a landmark sales figure of one million vehicles back in late March. As the one millionth vehicle to roll of the production line was a Swift, the company decided to make the limited edition model of the Swift. Mind you, there is already a limited edition of Swift called 'Swift Glam' which was launched way back in 2009. The company said that this 'One Million Edition' will be restricted only to 1,000 units
So for an extra Rs 24,000 you get:
* A signature `Goldsmith Black` color (the pics are above so you be the judge)
* Alpine integrated stereo with USB and Kenwood speakers
* Unique (read weird) decals on the body
* Leather upholstery
* Foot-mats and cushions (I mean come onn!!)
Now look, when your selling features include foot-mats and cushions, it is about time you give your product and complete revamp. What's next? A limited edition SX4 to celebrate the launch of the new Wagon R or EECO? :P
Maruti Suzuki Swift One Million Edition Images
Press Release
Limited edition of Swift launched by Maruti Suzuki
~ Only 1000 cars being offered ~
New Delhi, September 02, 2010: Maruti Suzuki India Limited, the country's largest car manufacturer, today announced the launch of a limited edition of Swift, the iconic premium small car brand.
The "Swift One Million Edition" shall be available in a specially created "Goldsmith Black" color and shall be loaded with smart and attractive features like splendid graphics, special integrated stereo with USB and speakers, luxurious leather seats, cushions, foot-mats and an artistic decal on the exteriors.
The limited edition celebrates Maruti Suzuki's landmark of selling one million cars a year, achieved in late March. The one millionth car was a Swift, and it rolled out of the Company's state-of-the-art plant at Manesar.
The limited edition car is branded: "Swift One Million Edition".
Speaking on the occasion Mayank Pareek, Managing Executive Officer (Marketing and Sales) said, "It is indeed a moment of pride for us. Swift One Million Edition is our gesture to show gratitude to our customers who have strongly supported us in our journey to reach milestone of one million sales in one year."
Highlighting the product Mr Pareek added, "The interiors of the Swift One Million Edition have aesthetics of a commemorative edition. The new features and the characteristic body graphics together compliment the sporty character of the Swift. We are confident that this special edition will bring pride to the select owners who get to possess it".
The Swift One Million Edition is available in Vi version (Petrol) at a price of Rs. 483,079 (ex-showroom, Delhi). Only 1,000 units of this celebration model are being offered.
Swift pioneered the premium A2 car segment in the country. It was Suzuki's first world strategic model and heralded a new design philosophy which is aggressive, bold and sporty. Swift was also a landmark in demonstrating the R&D capability of Indian engineers: a group of 25 Indian engineers worked on design and development of this global model along with their counterparts at Suzuki.
Since its launch in 2005, Swift has commanded unprecedented leadership with over 4.90 lakh happy customers. Swift has the distinction for achieving the fastest 2 Lakh sales in 35 months and fastest 3 Lakhs sales in 46 months.
The Swift has won many accolades at national and international platforms. The super-car won the Car-of-the-Year in as many as 11 countries, including India, for its path-breaking looks and styling, superior safety features and its ability to balance a dynamic driving experience with a comfortable ride. In addition to over 40 national and international awards to credit, Swift created a Guinness World record for the largest gathering of Swift cars in May'10.
Source - Goa On Wheels