Continuing the festive cheer, Ford India is getting ready to conduct yet another Midnight Sale tomorrow (5th of December, 2012).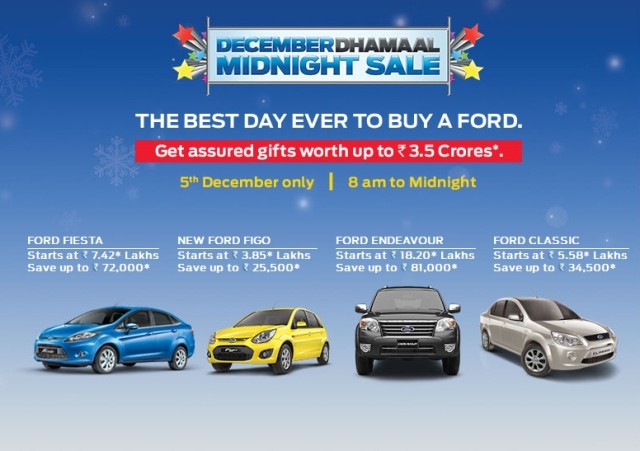 December is generally a very slow month for car sales. The reason being most people prefer to buy cars in the festive season of October and November leaving behind very few cars to be registered in December. Sales are also down in December because of the depreciation aspect of the car – essentially, most people prefer to buy a car that is manufactured in January rather than December as they save on one year of depreciation.
But to fight the expected slump in sales, Ford India has very smartly decided to conduct the Midnight in December. Around 160 Ford dealerships across 129 cities will remain open from 8 a.m. till midnight to boost sales in that one day. Ford will also offer some really exciting discount on its cars as a call-to-action for customers delaying their purchase.
The expected discounts are -
Ford Figo -  save up to Rs 25,500
Ford Classic - save up to Rs 34,500
Ford Fiesta - save up to Rs 72,000
Ford Endeavour - save up to Rs 81,000
Note - All prices ex-showroom, Delhi  
Along with the above mentioned discount, buyers will also be treated to offers on EMIs, free insurance and an assured gift with every Ford car purchase. Gifts include LED TVs, washing machines, home theater systems and microwave ovens. Ford has earmarked a budget of Rs 3.5 crores for these gifts.
[For more information on the Midnight Sale day click here]