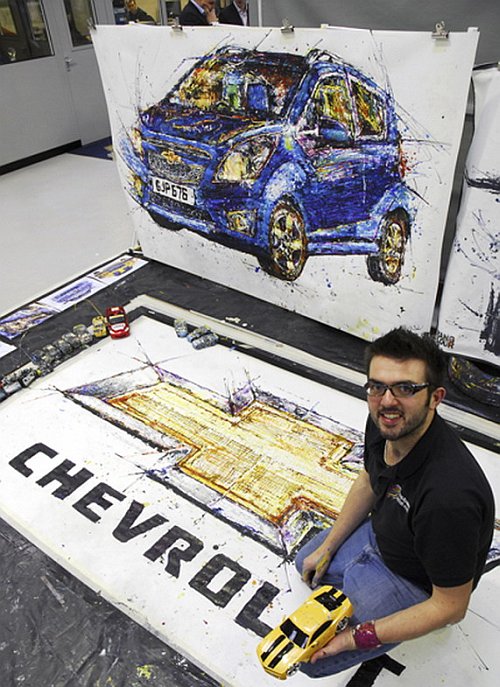 26-year old artist Ian Cook painted a Chevrolet Spark (Beat). He painted it using many colors. He painted in on canvas. His painting is close to the real thing.
What's the catch?
He had to do it without using a brush!
Ian Cook, a highly talented artist from West Midlands is a car buff himself. He used remote-controlled cars and old tyres to draw the Spark on a blank piece of canvas. It's not the first time he's done it. This is his 41st painting and 6th Chevrolet.
Ian Cook -
I've done several commissions for Chevrolet before, so when the opportunity to be the first person ever to create an image of the Spark came along, I couldn't turn it down. It looks quite simple but the logo is actually very intricate. The angles have to be exactly right, and the criss-cross detail of the gold inside the bow-tie was difficult to replicate.
His first three – of the Camaro Convertible Concept, Beat Concept (which evolved into Spark) and Rob Huff's 2008 Lacetti WTCC car were created in front of thousands of awe-struck on-lookers at the 2008 edition of the British Motor Show. Cook's next task is to judge the Young? Creative? Chevrolet! art competition which begins shortly.
Source - Girl Racer