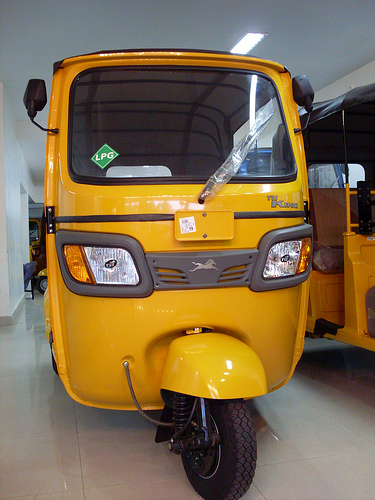 The auto rickshaw is the unsung hero of Indian commutes. No matter which Indian city, town or district you are in, you will always find these little three wheelers chugging down the lanes. However, what is the longest journey you have ever done in an Auto rickshaw – 50 kilometers, 100 kilometers?
How about a whopping 10,200 kilometers?
That is exactly what Mr Sanjay Sharma, a 44-year-old IT professional from the UK, choose for his epic journey. He traveled from London to New Delhi in a 175 cc auto rickshaw which he named 'Flying Rani'.
Of course, the Flying Rani is no ordinary auto rickshaw. By that we don't mean it needs an air strip to get underway.
Mr Sharma and his three companions decided to modify it by changing the brakes and adding half-doors for safety, a GPS for navigation, and luxury seats for comfort.
But they left the engine unchanged!
Why did he undertake that journey you ask?
The answer is for the humble cause of charity.
Mr Sharma wanted to raise nearly 4 million rupees to fight AIDS. The trio started their journey on July 14th snaking through countries such as France, Bulgaria and Iran. One companion, the mechanic, left in Turkey and the other in Iran, both due to work commitments. But unshaken by the circumstances, Mr Sharma soldiered on. After 10,200 kms and a flat tire later, he was in New Delhi. Mission Accomplished!
Owing to a sore bottom, he does not want to ride the rickshaw back to London. It will be shipped back to his hometown. But truly, what an epic journey!
IAB salutes Mr Sharma for his work and gives him a hi-5!
[Source - msn.com]