Theme of the conference - Sustainable technology for safe and smart mobility - Two conference days and three exposition days, Fifteen keynote presentations, two panel discussions and two plenary sessions. There are more than 100 exhibition stalls showcasing the latest technology. [For the full list of topics and confirmed participants head over to http://apac16.org/index.asp]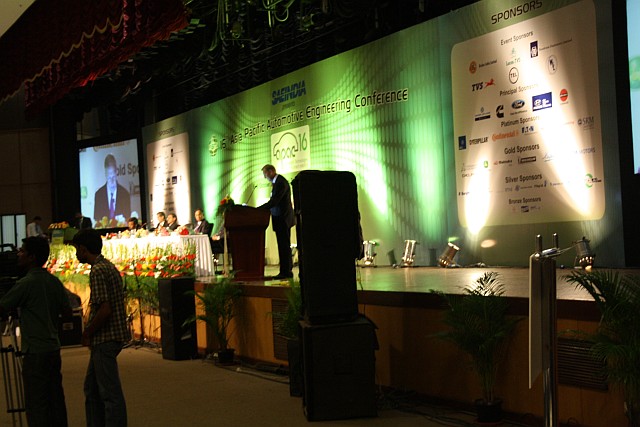 Mr Venu Srinivasan from TVS Group lights the lamp to mark the beginning of the three day automotive conference and exposition.
Mr R Dayal, President of SAEINDIA says
This is the first time a conference of this magnitude is conducted in India in partnership with FISITA (UN of the Automotive Industry, represents 160,000 automotive engineers in over 160 countries)
Automotive market growth in India - 10-11% growth in 2011
India occupies 7th position in the global auto markets
Fuel consumption, safety, space and features - customers want more for less
The slowdown in the market is temporary
The theme song is played. It has a synergy of six countries.
Mr Venu Srinivasan, Chairman of TVS Motor Company begins his presentation - Mr Srinivasan says we have congested cities in India becoming more urbanized by the day creating problems of pollution and delays in getting from A to B. India is soon going to be third highest polluting country in the world. Urban planning and technologies have to combat the vehicle pollution that is growing exponentially.
By 2020 India will be the third largest automotive producer in the world according to JD Power studies. Public transport share of mobility will decline and personal transport will gradually take over. More than 40% of India will live in cities in 2030. Cities will get disorderly and chaotic if steps are not taken to meet the challenges. By 2030 590 million people will live in cities. 2.5 billion square meters of roads will have to paved, 7400 km of metros and subways will have to be constructed to keep up with the population growth and urbanization in this period.
Oil supply in the world will not meet the spur in transportation. Gasoline vehicles will put out 60 g/km of CO2 and 2.4l/100 km by 2020 in India. But average speed increase of automobiles from 10kph to 20kph will increase CO2 emissions by 40%.
Safe, Smart and Connected is the way to go -
Smart - Far lighter, far fuel efficient vehicles for people who will demand more infotainment to save time and bypass traffic nuisances.
Safe - Enhanced occupant safety - Mr Srinivasan says road deaths involve two wheelers and pedestrians more in India than occupants. Pedestrian- and vehicle - anti collision systems are the need of the hour.
According to his study, over-crowding is the cause of parking problems. In the footprint of a house, apartments have towered up today increasing the cars from one to dozen or more. Car pooling is unheard of in India due to practical purposes.
We need to build satellite cities to take the load of the main cities integrated with schools, houses, shopping complexes and hospitals. It is imperative for us to take the step with NGO's who are working with urban planning and congestion to sort out the problems. It is going to be a social revolution in India to free-up cities which needs political will to execute.