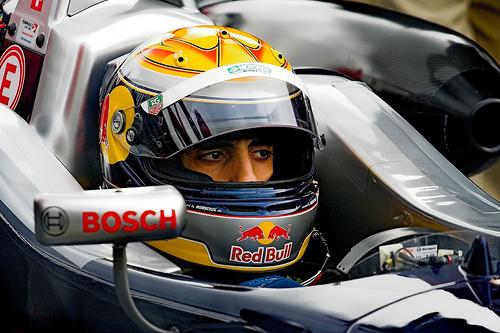 Yahoo's weather forecast for today's race- Today: Mixed clouds and sun with scattered thunderstorms. High 87F. Winds light and variable. Chance of rain 60%.
We've started our coverage of the 2009 Malaysian GP here on Indian Autos Blog. Its raceday and we're about two hours away from the green lights.
Reflecting on the qualifying session yesterday (we provided minute-by-minute updates), it was a scintillating show by Brawn GP. They exhibited dominance, and the Toyota's cars similar in strength (Trulli and Glock) occupy second and third positions of the starting grid in today's race.
Nevertheless, the greatest element of all, an influence that changes the race classification in a jiffy is the weather conditions. How many times have we seen drivers go from hero to zero after a brief shower? It altered the fate of Massa's championship dreams last year in the final lap of the final race at the decider in Brazil.
So, today expect the unexpected. Home team Force India, who begin the race from the back of the grid, hold a fair chance in missing out the first corner fiasco. Further, as the rain comes in to play, they may well manipulate options, go for that early pit stop, and you never know, they could be amid the points.
One other driver who could benefit from such a situation is Massa, who failed to make it to the second qualifying session. Sebastian Buemi had a memorable F1 debut last week but starts today's race from the back-end of the pack, and he will be eying to get a head start as well.
This season, though only a race old, shows F1 can be as unpredictable as any other sport. Today's race is going to be very thrilling because last year's heroes Massa and Hamilton don't feature in the top ten. What I mean by that is overtaking maneuvers and wheel-to-wheel racing is confirmed in today's race.
We'll be coming to you with updates every minute, so refresh your screens and stay tuned to Indian Autos Blog.