John Deere India, a subsidiary of Deere & Company, USA, launched its premium sugarcane harvester, the CH 330, in India on December 5th.
The harvester was launched at the ongoing EIMA Agrimach 2013 in New Delhi. The harvester will roll out of the company's manufacturing facility in Sirhind, Punjab. The CH 330, designed specifically to tackle narrow rows in Indian sugarcane fields, retails at a price of Rs 1.4 crore. The company expects to sell 20 units in 2014, according to a report in The Hindu.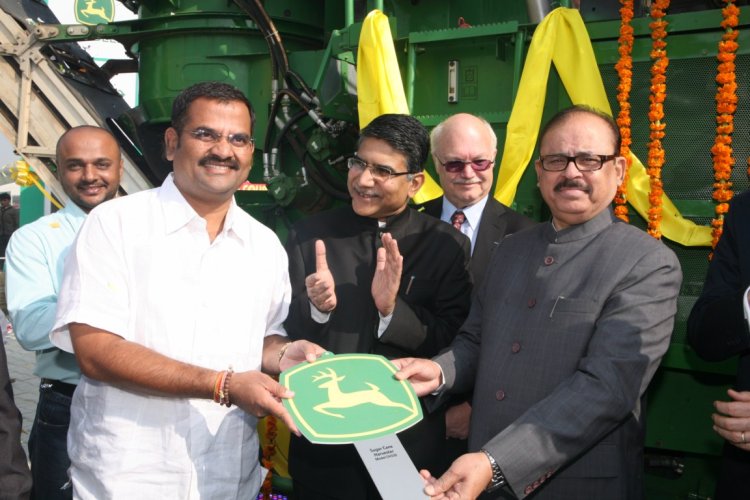 The CH 330 is the only four-wheel drive sugarcane harvester in India. It is powered by a 6.8-liter six-cylinder inline diesel engine that is downsized to produce 198 bhp for India. It has a maximum traveling speed of 18 kph. The CH 330 features slip prevention control and hydrostatic propulsion system which allows the operator to operate in three different 'shift-on-the-go' ranges. The harvester also features hydrostatic dynamic braking.
The Hindu's report further states that out of five million hectares in which sugarcane is harvested in India, not even one percent of produce is harvested by machines. The only other sugarcane harvester on sale in India is New Holland's Austoft 4000 series, launched in February 2010.
India is undergoing a tractor boom at present with overall tractor sales for the 2014 fiscal expected to touch 655,915 units, up by 11 percent, as per a paper filed by ICRA.
John Deere CH 330 Brochure
[Can't see the brochure here? Head over to Slideshare]
John Deere CH 330 introduced in India - Press Release
[Can't view the press release? Head to SlideShare]