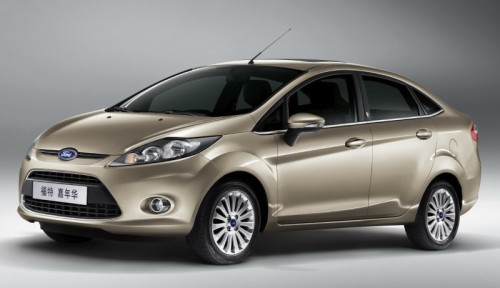 The new Ford Fiesta sedan is one of the quietest cars in its segment
Ford India sold more cars in March than Honda & Toyota. The Figo was the reason - a great hatch available both in petrol and diesel variants at a killer price tag. This has instilled a lot of confidence in the company and it has ambitious plans for the future.
Back in the US too Ford is playing strong, & has overtaken GM in terms of sales. It is preparing itself to launch the Fiesta hatch and sedan back there & is marketing it to the best of their abilities.The latest trick - Ford claims that the Fiesta has the best in class NVH levels, comparable to some of the larger cars. They say drivers will enjoy being inside the Fiesta as it has a very quite cabin.
This marketing technique might not be applied in India considering the fact that there would be cost cuttings for this price sensitive market and the NVH levels may not be as good. Correct. We are getting the brand new fiesta very soon.
Test mules of the hatch are already doing rounds around Chennai, and locals can very soon expect to see the disguised sedan too. The sedan is expected to be launched in Early 2011 & the hatch in mid 2011.
Engines for the sedan include a 1.6 Zetec petrol that punches out 118 BHP & a 1.6 Duratorq Diesel with a power output of 90 BHP & 20.7 Kgm of torque. Engines for the hatch are not clear yet but we expect it to have the 1.4l Duratec petrol & the 1.4 Durotorq diesel that we have already experienced in the current Fiesta. There will be only manual transmissions available, as Ford has not shown interest of offering automatic transmissions on existing models.
Ford's marketing technique is going to be driving pleasure. Ford cars are always known to have excellent driving dynamics and the new Fiesta will be no different. Back seat space will not be one of its positive points as the sedan is just a booted version of the hatch with no increase in the wheel base. Both the hatch & sedan will share the same interiors. Features like start-stop button will also make their way onto the Indian variant.
The sedan could be priced between 7-9 lakhs & the hatch between 5.5-7 lakhs. Ford has more cars in the pipeline.We'll get you all the scoops. Watch this space!
Ford Fiesta Sedan Image Gallery
[nggallery id=37]