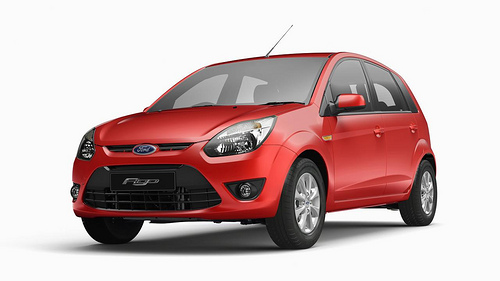 Figo comes in 1.2 petrol and 1.4 diesel. It has large boot space and comfortable driver seat
Ford India organized a separate screening and presentation of the new Ford Figo to the electronic media today. This is certainly, to the best of our knowledge, the first time such an initiative is taken by an Auto company in India and we're grateful to the entire Ford team for providing with such a fantastic experience.
I'll be shooting pictures and evaluating the driving characteristics of the Figo during the drive tomorrow.
Today, the story of how the Ford Figo was born, and how an old European Fiesta was turned into a budget family mobile for 'Sandeep,' a newly wed Indian male with aspirations, energy and confidence, was discussed in depth. More on the story later.
I spent a brief amount of time experiencing the static car, and it looks very impressive. The ingress/egress could have been better. The quality of the buttons and switches in certain points could have felt better. But overall, Ford's got the material/color/feel formula almost spot on.
I'll drive the car, and with some quality pics I'll come back to you tomorrow.
Ford Figo Image Gallery
if you're unable to view the image slideshow above, head directly to the Ford Figo Image Gallery to see the images