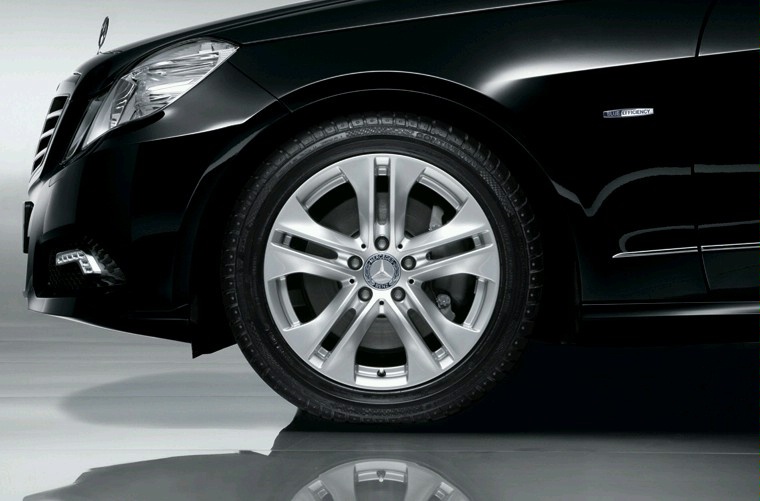 The 2010 Mercedes Benz E-Class is Mercedes' next and most talked about car. It is to be unveiled at the Geneva Motor Show this year and the original plan was to display the car to the public for the first time in Geneva lacking any camouflage, before going on sale later this year as a 2010 model.
IAB now has exclusive images of the soon to be launched E-Class. The main differences are the design of the new grille and headlights. The wagon variant is expected to come in less than 12 months after the launch of the sedan and is expected to feature a widened C-pillar and a chrome strip across its rear. The three variants featured in the photographs, includes a name for each the trim levels: Avant-Garde, Classic and Elegance.
The gear selector is positioned on the steering column, and there is also a centrally mounted color screen as well as an in-dash unit between the speedometer and the tachometer. Interior space is on the higher side, thanks to a larger body, which now stretches 4.87m. There will also be an active hood, as well as a host of other safety features that include a computer-monitored camera and other radar based systems.
Engine Options:
184Bhp (137kW) Four-cylinder Turbocharged petrol engine,
Range topping 550hp (410kW) V8 E63 AMG engine
There will also be a 136hp (101kW) Four Cylinder Turbo-diesel model
A new direct injection petrol V6 model,
A 354hp (264kW) diesel V8 version
The All-new Hybrid model that's expected to arrive after 2010. This hybrid will feature the same V6 petrol-electric powertrain as seen in the new S400 BlueHybrid model.
A MacPherson strut and multi-link active suspension set-up is also expected to appear, as well as more powerful brakes and a new electronic steering system.
IAB Exclusive Images:
Source: World Car Fans