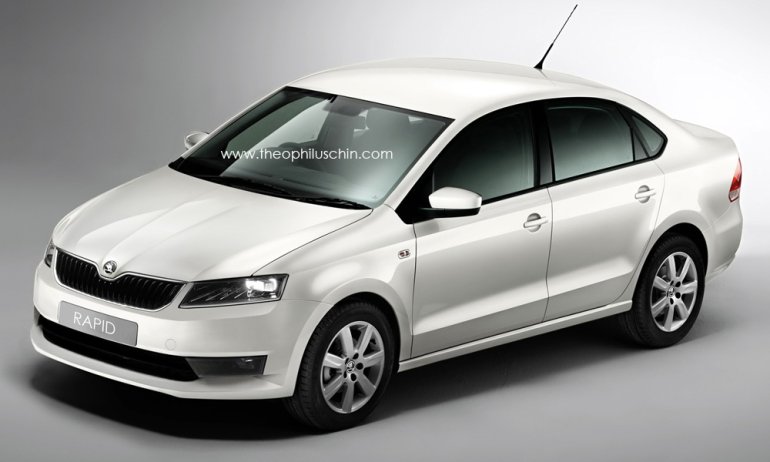 After SRK envisioned the Skoda Rapid, TheophilusChin has also brought forward a renderings of his vision of the Skoda Rapid. This version is heavily inspired by the Vision D – a design concept that was revealed by Skoda at this year's Geneva Autoshow.
This rendering is also heavily influenced by the Vento which is probably not the right way forward. Right from the wheels to the side profile to the front fascia, everything screams VENTO!
The reason why we say that it is not the way forward is because although Skoda and VW essentially share the same platforms, their design cues are very different. Thus every Skoda looks different from its VW counterpart. This relationship can be observed in Polo-Fabia, Jetta-Laura and even Passat-Superb.
Clearly, if Skoda and VW start sharing the design cues as well, it will mean that we are buying exactly the same products at different price points. The Skoda Rapid should look completely different to its counterpart Vento. It should also be priced below the Vento so as to not eat in the sister's marketshare.
Perhaps, the Skoda Rapid can be VW-Skoda's entry level sedan to compete against the likes of Fiesta Classic, Mahindra Verito and Maruti sub 4 meter Dzire. This way the Germans can ensure that they have presence throughout the different sedan segments without rivaling each other. But given the Rapid is essentially the Vento in a different dress, this out-right down-segmenting is not realistic thinking.
Skoda also had the option of creating a sub 4 meter Rapid but looking at the spyshots that possibility is out of the window. This may be because the company is planning to sell the Rapid in other emerging economies as well. Obviously, other economies such as Philippines, Malaysia etc do not provide the sub-4 meter tax benefits. Hence there was no reason of shortening the boot space.
The Skoda Rapid is expected to debut is the later half of 2011. Only then will all these questions be answered.
Source - Theophiluschin.com