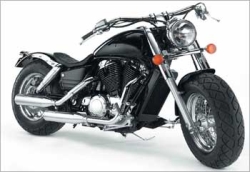 Harley-Davidson Motor Company will begin selling motorcycles in India in 2010, said its president and chief operating officer, Matthew Levatich. The company has begun the process of picking dealers and is constructing a subsidiary in Gurgaon, near the country's capital Delhi.
Matthew Levatich said his mission was to lay a strong base in India to help play a long innings in the country. He said India is a vital part of the expansion plan for the company which is seeking a "global reach."
Just like any other auto company, Harley will spend its initial time importing bikes, accessories and other rider gear until it gets a clear picture of its demands here. India's booming economy and rapidly evolving infrastructure has evoked interest in Harley Davidson to set shop here.
The company's initial approach is to import its motorcycles, accessories and riding gear, and it will then evaluate how best to evolve its approach as Harley-Davidson's business grows here.
Although a lot of other things we discussed, frankly it was boring. He explained how Harley's riding experience is magnificent and how unique his motorcycles were and how his motorcycles are going to lead India into its next era of motorcycling.
Not very realistic considering most motorcycles sold in the country are 100cc commuters. In the world of Nanos and Altos, it's like saying the Rolls Royce brand with its CBUs is going to carry India forward into the next era of driving.
The company has begun the process of identifying initial dealers in Mumbai, Delhi, Bangalore, Hyderabad and Punjab State.
Let's see how they price it. It won't be in the mid 60 thousands to take on the Bajaj Avenger. That is for sure.