If you have read our review of the Force One, Force Motors' first attempt at a passenger car, you would be aware that a lot of inspiration (and components) come from a Chinese company called Guangdong Foday Automobile co Ltd.
Essentially, Force Motors took the Foday Explorer and then refined it for the Indian market. They did a very decent job of introducing an SUV. It's not the most refined one on sale today, but it is definitely worth a look if you are looking for good levels of space and fuel efficiency.
Mr Prasan Firodia, the man in charge at Force Motors, is a very ambitions lad. While speaking to him at the launch of the Force One, he mentioned that he is getting into this business with long-term goals. So it doesn't matter whether the Force One is well accepted or not, he will bring the Force One replacement sometime in the future which will incorporate all the learnings from the Force One.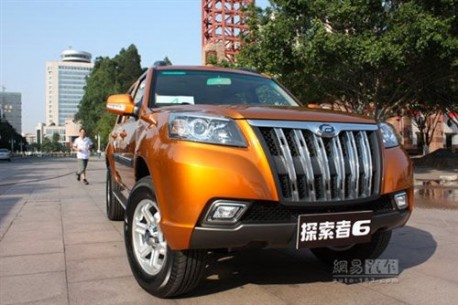 So with this story, we are going to throw our hats in the game of speculation. GuangDong Foday has filed a patent for an upcoming SUV tentatively named Explorer 7. If you are thinking "Oh, I have seen this somewhere", let me remind that the design is inspired from Foday Explorer 6 (pictured).
The Foday Explorer 7, yet to be revealed, has a more conservative design than the Explorer 6 which is outlandish flashy. Three engines will be on offer - 2.0L and 2.2L Mitsubishi-sourced petrols and a 2.8 liter diesel engine from Isuzu.
There is a very good chance that Force Motors is keen on extending its partnership with the Chinese company and bring more products into India.
So is this a sneak peek at the tentative Force Two?
[Source: auto.163.com via CarNewsChina.com]