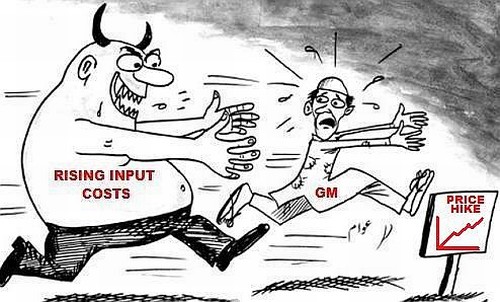 Steadily increasing commodity prices has forced General Motors India to hike the prices of its car models by 2 to 3%. The price hike would be in effect from the 1st of next month, July 2010.
P. Balendran, Vice-President, General Motors India -
We will increase prices across all eight models by two to three per cent from the first week of July. Prices of commodities like steel and rubber have risen sharply since the second quarter of last year. So, we have been forced to increase prices.
This financial year has been quite turbulent for car manufactures as they have made three price hikes in this year itself, the first price hike came in January owing to rising input costs, the second price hike came when a 2% excise duty increase in the Center's Union Budget and the third price hike coming after the introduction BS4 emission norms.
Other car makers, Toyota, Ford and Fiat also announced that if the commodity prices continues to rise a price hike would be imminent.
Sandeep Singh, Deputy Managing Director, Toyota Kirloskar Motors -
We are reviewing the situation this time and will take a call by this month-end. Commodity prices have gone up sharply in recent days.
Ford is planning to increase the price of its successful small car Figo by 2%. Now carmakers have to put up a balancing act by coping up with the increasing input costs while not losing customers because the price hike.
Source: BS
Image Source: Chowrangi