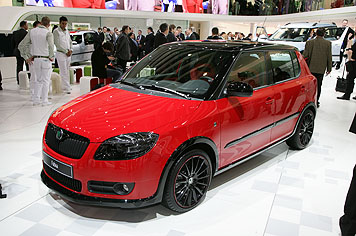 Skoda, besides the Yeti and the Octavia Greenline, has another terribly interesting car showcased at the on going Geneva Motor Show.
The Skoda Fabia Sports design study concept bears all the vital constituents that you can expect on the Skoda Fabia vRS in 18 months time. Put simply- it gets as extreme as it can. The vRS will function using parent VW's 1.4-litre TSI petrol engine
Skoda spokesperson-
The next vRS will be somewhere between the Sports Design and our S2000 rally car in looks
IAB Prediction- The next generation Skoda Fabia vRS should be a cocktail of a rally car's handling, a dragster's acceleration and top speed, a stealth jet's looks and a hatchback's space and comfort. Or it will be a complete mess and burn its tire out.
For more images- Autocar UK