The FUSO Canter Eco Hybrid 'Canna' world premieres at the 2013 Tokyo Motor Show, designed by women professionals.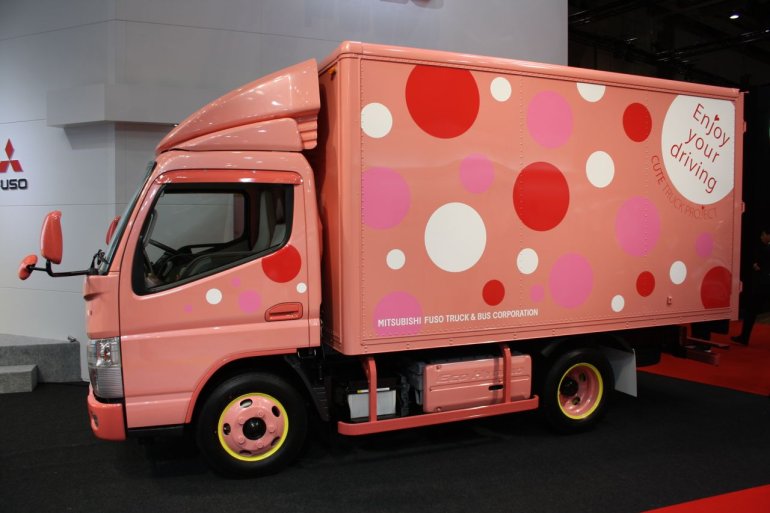 The Canter is the base vehicle of this project, on which a team of 9 women set out to work. Their aim was to design a truck that would make the commercial vehicles industry look attractive as a place of employment for women. 'Canna' is derived from the word 'Kannazuki' which is October, the month (this year) during which the special truck was created.
The Canter Eco Hybrid Canna is mechanically similar to the diesel-hybrid Canter that is made at Mitsubishi Fuso Truck and Bus Corporation's (MFTBC) Kawasaki Manufacturing Plant, in Kawasaki City, Kanagawa Prefecture. Its 123 hp diesel engine is paired to a 47 hp brushless electric motor. The net result is a 30 percent improvement in efficiency compared to the diesel variant.
FUSO Aero Queen 'PREMIUM CRUISER'
FUSO has also presented a special concept based on the Aero Queen coach. Dubbed Super-luxury Aero Queen 'PREMIUM CRUISER' coach, the vehicle's 55-seat cabin configuration is substituted with 13 luxurious seats with visual and audio comfort. The technical specifications of the bus is attached to the press release below.
FUSO at 2013 Tokyo Motor Show - Press Release excerpts
[Can't see the press release above? Head over to Slideshare]