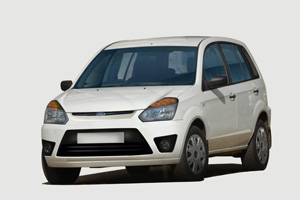 Ford India's small car, according to Autocar India, will be unveiled this month in India. Codenamed B517, it will be strapped with both petrol and diesel engines, the later could be the 1.4-liter Duratorq engine used on the Ikon and Fiesta, contradicting the 1.5-liter plans.
The new model will go on sale in March next year competing against cars like the Polo, Micra and new Chevy Spark.
Autocar also says the car will be displayed to the media by the president and CEO of Ford Motor Company, Alan Mulally, who will fly down to India for this event. As we reported earlier, the new small car will come with a 1.2-litre petrol engine apart from the all-important 1.4-litre diesel engine. The car is based on a phased out Fiesta platform (details yet to be confirmed).
Sources add the event is scheduled next week.
Source - Autocar India