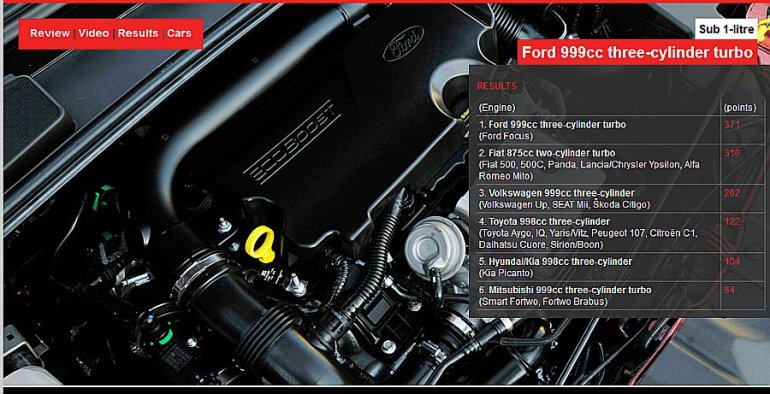 Ford's 1-liter Ecoboost engine is fast becoming the Range Rover Evoque of the powertrain world - its on everyone's lips. Days after it set 16 world records, it is back on the front page of Indian Autos Blog for picking up the much coveted International Engine of the Year award.
Making the victory sweeter is Ford breaking a 13-year jinx of not winning a single award at this prestigious event!
Besides being honored as the International Engine of the Year, the 1L Ecoboost engine also won in the "Best New Engine" and "Best Engine Under 1.0-litre" categories. Last year's winner, the 0.9L TwinAir engine from Fiat, put up a brave fight, but couldn't hold on to its award in 2012.
The 1L Ecoboost engine is able to power a car of the Focus' size with ease which makes the future of the internal combustion engine a bright place. Despite being able to fit on an A4 paper, this engine can produce all of the 120 horsepower in the low end of the rev band. We personally cannot wait to sample this engine.
The good news is India will get this engine on the EcoSport mini SUV early next year, but taking note of the current ratio of petrol:diesel cars in the B- and C-Segments, the Ecoboost may not be winning over too many Indian customers. Its a shame that the market scenario will slowly kill a world-class technology.