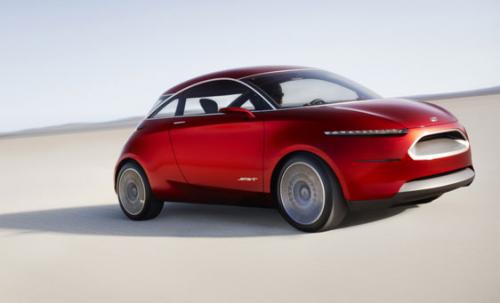 Over the last few days, Indian Autos Blog has published information on Ford's next small car for India. The company has admitted the development and hinted that Ecoboost technology was a suitable for Indian models. Moreover Ford is also working on smaller Ecoboost engine for its future products.
Hours after we wrote on the development, Ford unveiled images of the "Start Concept" featuring a 1-liter 3-cylinder EcoBoost engine. It is the company's first concept in three years.
Featuring a new 1.0 liter, 3-cylinder EcoBoost engine, the characteristics of this engine is similar to a normally aspirated 4-cylinder engine. The engine is mated to a 6-speed manual transmission maximizing fuel economy.
The Ford Start Concept was designed for the rapidly rising population in urban areas. Laser-cut LEDs and running lamps might not make it to the production model but the idea of a small and highly fuel efficient car capable of delivering a million miles to the gallon certainly will.
Ford's director of design Freeman Thomas -
Our ambition with the Ford Start Concept was to design a car that goes beyond the practical realities of commuting in these mega cities. We wanted to design a car you would also love.
The Ford Start Concept will be unveiled at the Beijing Motor Show today. If you find it resembling the Ford Ka, you're on the same page as us.
Ford Start Concept Image Gallery