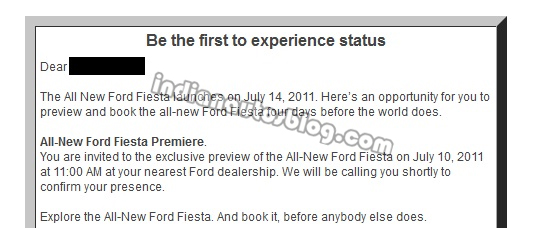 In a mass mailer reaching out to Ford customers, Ford has spilled the beans on the Fiesta's launch date. The following image, cut out from the mass email gives you the details.
Ford is holding the launch on the 14th, but four days prior to that privileged customers get a chance to experience the car's features in comfort at the local dealership.
The new Fiesta comes with a pair of new 1.5-liter engines paired to 5-speed manual transmissions. You can learn everything about the new Fiesta using the following links.
Ford Fiesta - Everything technical you ever wanted to know
Ford Fiesta - Indian Fiesta vs European Fiesta
Ford Fiesta AT not coming in 2011
Ford Fiesta - Voice activated controls at work [video]
Ford Fiesta - First impressions
Now that the Fiesta has come back into focus, make sure to check back later for our review.