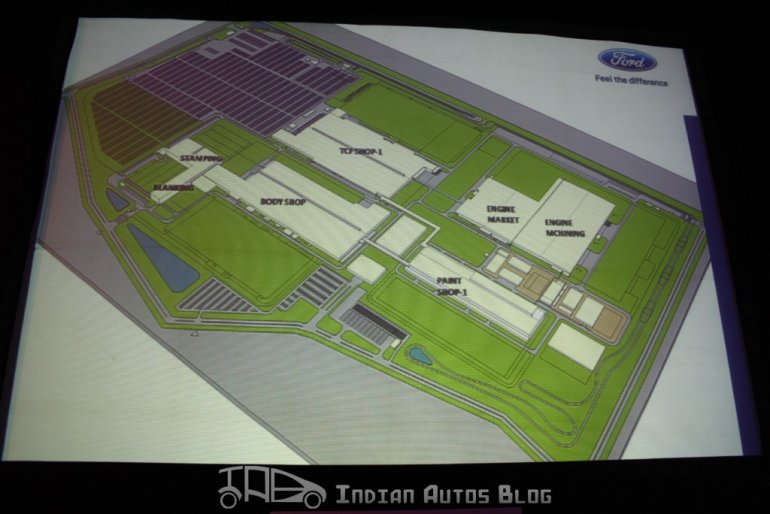 If you have been tracking our updates you'd know by now that construction of the new Ford plant is on at Sanand, Gujarat, literally a stone throw away from the manufacturing plant of the Tata Nano.
IndianAutosBlog.com was among a handful of people invited to witness this event which was conducted in a traditional manner. Ford India's MD Michael Boneham and his team tilled the soil to signify that construction of the plant is underway.
It marks Ford India's entry into the second phase and they need the gods to shower them with blessings if they are to catch up with Hyundai and Tata Motors.
Here are some of the facts we were provided with at the press conference
Ford chose Gujarat because it liked the state's transparency in corporate dealing. Ford says positioning the plant closer to North India, where it registers huge numbers, gives it a strategic advantage in logistics. The Mundra port, the diagonally opposite position of Gujarat from Chennai are other important reason for this billion dollar investment.
Like Sanand, Ford is constructing seven manufacturing plants around the world. Construction is underway in Thailand and China, while the other five are farther away from India.
Many of the cars to be built in this plant are going to be where 70% of the market is - 3.5-6 lakh rupees.
Engine manufacturing begins in late 2013 while cars roll out from early 2014.
Ford India says engines made at this facility will meet demands from an export perspective. An EcoBoost engine is a definite candidate.
By 2020, Ford expects India to be only behind America and China in the list of world's largest markets as many families will break the threshold of car ownership.
Ford is investing 4,000 crore in this facility.
Engines as well as cars will be marked for exports. Vehicles are expected to be more or less 80% localized
Ford's main markets for its Sanand-made cars (outside of India) will be Mexico, South Africa, North Africa and the Middle Eastern countries.
This plant can manufacture 240,000 cars annually but Ford says it will take a while for it to utilize complete capacity. Ford is not willing to share the exact numbers, but says more than 50% of the cars produced will be for domestic consumption.