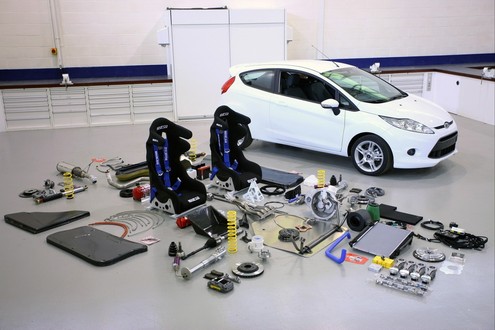 Ford is offering equipment for the Fiesta hatchback in Europe that will transform it into something close to a rally car. This package is developed by Ford's official rally partner M-Sport. The major change is very much under the hood - the 4-cylinder 1.6-liter engine now develops 168hp and 134 lb-ft of torque, 40% more than what you started with.
Other upgrades include:
* Five-speed Sadev sequential gearbox with flat shift gear cut
* Reiger adjustable dampers with Eibach springs
* Ventilated disc brakes with AP four-piston competition calipers
* T45 steel multipoint roll cage
The innocent and silent city hatch will be transformed into a crazy roller-coaster after the treatment. If you're looking for something lighter and madder, then you should go for the R1 package that has a roll cage, ball joints, engine performance upgrades, dampers and a limited-slip differential. Once you put those into place, your Fiesta is ready to take on any Rally course.
We're not aware if Ford offered such a package for the previous generation Fiesta (sold as Figo in India), but if they did, Ford India must fancy bringing some of it here. Ford cars are always fun to drive and the Ford Fiesta 1.6 S highlighted that with a tighter suspension setup and special tires. Perhaps it's time for Ford to go one better by offering something such as the sports package for the enthusiast crowd.