The Ford B-Max is a five seat mini MPV launched in Europe, and is positioned above the Fiesta hatchback. It is powered by the 1-liter Ecoboost engine apart from the regular run of powertrains from the Ford mini car family.
[can't see the video above? Head over to Youtube]
The B-Max is a disproportionately upsized Fiesta until you slide the rear doors. The B-Pillar-less design will be the most appreciated feature in day to day use. And what better way to showcase the benefit of this design than by letting a diver pass through the suspended car into a pool of water down beneath?
According to Romanian media reports, Ford has started trials of the Grand B-Max that features a stretched wheelbase and a redesigned cabin to accommodate 7 passengers (by planting two small seats in the boot). A few weeks back, AutoLatest.ro reported that Ford will introduce the Grand B-Max next year. Trials of the big-shell B-Max has started and production is scheduled to start in 2013.
Ford revealed the B-Max at the 2012 Geneva Motor Show (after unveiling the concept at Geneva 2011) and the Grand B-Max could be Ford's present to large families at next year's Swiss show.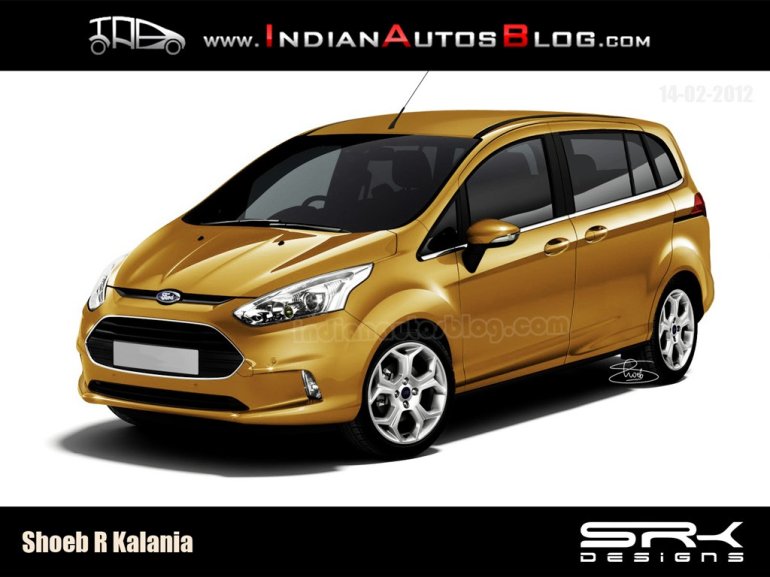 Ford India has to rationalize the Grand B-Max to explore the MPV market that will witness a pile of launches in the coming months and years. Honda's Brio-based MPV, the Chevrolet Enjoy and the Nissan Evalia are some examples of vehicles trying to compartmentalize the MPV market.
Ford has localized the Fiesta well, and the launch of the EcoSport could see more technologies and components coming from local vendors. Building the B-Max at an affordable price must not be challenging as Ford would have a larger scale to work with. However Ford will not get small car sops on the 4m+ long Grand B-Max.
[Source - AutoLatest.ro]